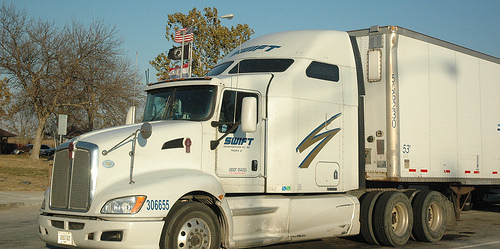 Today's installment of our run through the "Fine Nine" list of companies cited by the National Organization for Disability (NOD) as making the hiring of employees with disabilities a priority begins with J.B. Hunt. According to the Business Management Daily rundown, the Arkansas-based transportation logistics giant created 50 new positions for people with disabilities with the aid of the NOD.
As discussion of the Labor Department's proposal to require federal contractors to strive for 7% of their workforce to be made up of people with disabilities ensues, the logistics industry will be paying close attention. Blogger Melissa Kennedy endorses the new provision in her LogisticsJobSiteBlog.com post, "What About a Plan to Increase Jobs for Disabled Workers?" She argues that it's a way for the government to effect major change in one fell swoop:
The plan is being lauded as one of the most significant efforts to protect the rights of the disabled. It's easy to understand why. Among disabled workers, the unemployment rate is nearly 13 percent. Combine that with the fact that federal contractors make up a quarter of the workforce, the math becomes clear.
J.B. Hunt's equal employment opportunity policy statement includes specific anti-discrimination language for persons with disabilities with regard to recruiting and training; facets specifically mentioned as being aided by the NOD. This is very important as the logistics industry offers many types of jobs suitable for people with disabilities, from packaging to assembly to fulfillment.
InvestorPlace market analyst Susan Aluise says the trucking industry is on the rebound, and names J.B. Hunt one of the four trucking companies expected to grow in the coming year. She explains that the increased output by manufacturers is combined with the retailers' desire to keep inventories at a minimum; as trucks are required to make more frequent deliveries, more hands-on labor is needed up and down the supply chain.
Tyson Foods, Inc. utilized the NOD's services to provide training to its recruiting managers, as well as standardizing best practices for hiring people with disabilities. On the "Bridges to Business" program page, manager of diversity and leadership development Ulanda Terry likened the experience to a culture shift for the poultry, beef, and pork processor:
Their training and recommendations have been instrumental in helping better prepare our HR team to recruit a more diverse workforce and our company recognize the benefits of hiring candidates with disabilities.
Collectively, Tyson employs about 115,000 people in its plants. The reliability commonly exhibited by people with disabilities is effective in work settings with multiple shifts. The company recruiters can hire people with disabilities to fill positions along the production lines where routines procedures need to be done, or performing sanitation tasks, a crucial component of large-scale food production.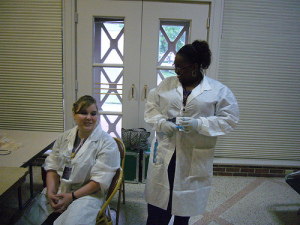 Like Tyson, Saint Barnabas Health Care System is in the embryonic stages of recruiting and hiring people with disabilities. The Pennsylvania-based health care concern has been around for over 100 years, and employs more than 600 full- and part-time staff members in a variety of compassionate-care services and settings. The commitment of such an esteemed provider will help people with disabilities make inroads into the nation's largest industry.
People with disabilities fulfill a number of roles in health care, not only in office duties, custodial or food services, but also in nursing and other occupations that provide care. In 2007, the Equal Employment Opportunities Commission published a fact sheet addressing employment of health care workers with disabilities. Chairwoman Naomi Earp said in the press release:
We should be mindful that disability does not mean inability, and that every individual deserves the freedom to compete on a fair and level playing field… People with disabilities represent a vast pool of untapped talent for employers, particularly in an industry that is growing as rapidly as the health care industry.
Comments?
Images by KOMUnews (top), cambodia4kids.org (Beth Kanter) (middle), and Jo Guldi (bottom), used under their Creative Commons licenses.
Leave a Reply