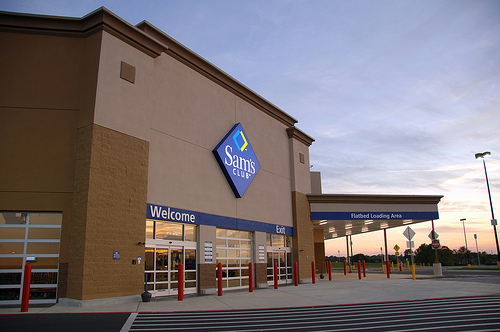 We begin our examination of the policies and practices by each member of the National Organization on Disability's (NOD) "Fine Nine" introduced in yesterday's post. The list recognizes companies that have made the hiring of employees with disabilities a priority. Number one, at least in the Business Management Daily (BMD) rundown, is Sam's Club.
The division of Wal-Mart counts over 47 million members enrolled in its warehouse club stores worldwide, making it the eights largest retailer in the U.S. The BMD list credits Sam's Club as one of the initial investors in the NOD's "Bridges to Business" program, which was conceived more than four years ago as a way to help businesses recruit and train employees with disabilities.
Sam's Club contributed $350,000 to the NOD program in 2010. The company's press release lists a few other bona fides that have put Wal-Mart on the Careers & the disABLED Magazine list of "Top 50 Employers" of people with disabilities for six years running, and reports a formal check presentation ceremony was organized by a Wal-Mart-sanctioned advocacy group, whose mission is described thusly:
The group was created to build a sense of community among associates with disabilities and their colleagues and focuses on awareness, associate development and affecting positive change in the community, among other goals.
The group's role is further elaborated upon in Debbie Marsh's article for Disaboom, a media outlet covering issues related to people with disabilities. Wal-Mart's Manager of Disability Outreach, Crosby Cromwell, also tells Marsh that students with disabilities have long been part of their campus-recruiting strategy:
The retail giant is also co-hosting a student summit in Dallas for college students with disabilities. They'll be talking about fears associated with graduating and how to transition gracefully and successfully into employment, looking at resume-building skills and corporate careers. 'It's not only actual recruiting and hiring that's going on,' Cromwell notes, 'we want to be part of the dialogue on how to make that preparation process easier.'
Marsh's article personalizes Wal-Mart's success with these people in her portrait of Spann Cordle and his service dog, Finn. Cordle has worked his way from store greeter to customer service representative in the electronics department of the Summerville, Georgia, store, and he reaches out to the local community to raise awareness about hiring people with disabilities like him.
Additional efforts include work by regional outlets of Sam's Club to reach out to provide opportunities to people with disabilities in their own communities. During this past October, which is National Employment of People with Disabilities month, they organized job shadowing programs in several U.S. stores. One instance captured by the Auburn Reporter said current employees mentored people with disabilities in hands-on activities like making pizza and processing photos, among other tasks.
We'll continue our run through the NOD's "Fine Nine" in tomorrow's post.
Comments?
Image by Walmart Stores, used under its Creative Common license.
Leave a Reply