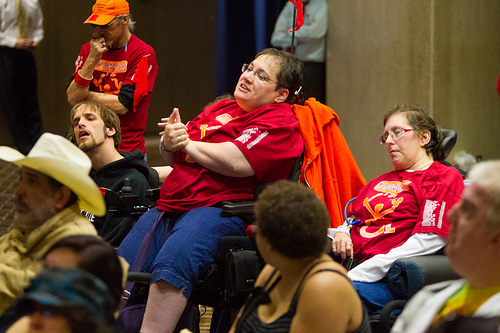 Section four of "Business Strategies That Work: A Framework for Disabilities Inclusion" begins with a question: "Where can I find qualified applicants with disabilities?" Then it goes on to say that most employers cite this as a primary barrier to hiring individuals with disabilities.
But finding qualified applicants is evidently a barrier to hiring, period. An article by Darren Dahl in Wednesday's New York Times says part of the reason for the current high unemployment rate in the United States is the lack of qualified applicants. An Oklahoma City-based recruiting professional tells Dahl they have 18,000 vacant positions in their office alone.
Information in "Build The Pipeline: Outreach And Recruitment" (PDF) provides companies with information about sources where they might find large pools of prospective applicants among the population of individuals with disabilities in their communities, 14 different strategies for attracting recruits, and suggestions for metrics that enable HR professionals to track and gauge the success of their efforts.
Perhaps it's a case of being too close to the subject, but it strikes me that recruiting potential employees with disabilities may actually be easier than identifying applicants from the general population; largely because of the number of support services available to these individuals with regards to contract labor, vocational rehab, and career training. As "Business Strategies That Work" points out, these resources span the realms of governmental, educational, nonprofit, and private entities.
One of the 14 strategies cited in section four is "Adopting a training program (and delivering it to company employees responsible for recruitment) on how and why to hire individuals with disabilities." A June 15 blog post on the website, GoodTherapy.org, provides some quantitative research into the effectiveness of this strategy, conducted by a researcher named John Butterworth, Ph.D., located from none other than the University of Massachusetts:
The program was designed to teach consultants about the value of IDD employees and give them information pertaining to the needs of these prospects. Support and follow-up through the transition period were key elements of the training delivered to the 84 consultants. In the 1 year after the training, the rate of employment placements increased more than three-fold. Additionally, the pay rate of the employees with IDDs increased by approximately $1.00 per hour, and the employees worked approximately 6 hours more per week than those placed by other consultants.
Couple these results with many of the benefits already discovered by those companies with experience employing people with disabilities, and it should be easy for business owners to see that making the necessary investments to include these individuals in their workforce will generate bottom-line returns that make life matter for both employee and employer.
Comments?
Image by U.S. Department of Labor, used under its Creative Commons license.
Leave a Reply