When someone mentions the letters "PBS," to you, what comes to mind? Perhaps visions of "Sesame Street" or "This Old House" dance around your head—and that is perfectly okay to admit. However, it is time to step back from the images of Big Bird and Bob Vila, and begin to see those letters in a new light.
Positive Behavioral Supports, or PBS for short, is what we practice and preach here every day at American Training, Inc. within our day programs and residential homes.
The Department of Developmental Services has put forth a mouthful of a definition for PBS. It states:
"PBS is a systematic, person-centered approach to understanding the reasons for behavior and applying evidence based practices for prevention, proactive intervention, teaching and responding to behavior, with the goal of achieving meaningful social outcomes, increasing learning and enhancing the quality of life across the lifespan."
So what does that even mean? Let's break that complex definition down into some basics.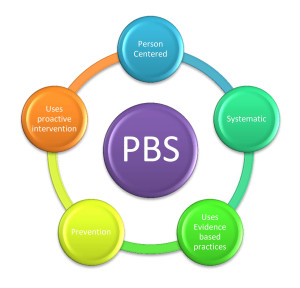 Simply put, all behavior serves a purpose and has a function, and we cannot forget that behavior is an important form of communication.
Therefore, when supporting our Guests and Residents, we take time to truly understand the reasons behind behavior before intervening. And when we do intervene, we do so with teachable moments. We teach skills that are aimed at replacing the undesired behavior and encouraging prosocial and more effective behaviors.
Person-centered is one of the key aspects of PBS. This means that we holistically look at what contributes to a Guest or Resident's well-being. All activities, plans, routines, and learning opportunities reflect that individual's preferences, needs, and goals. It is also of utmost importance to focus on what that individual can do, as opposed to what they cannot do, reflecting a positive, strengths-based approach.
PBS is utilized systematically, meaning in a step by step, organized manner.
PBS is an evidenced based practice – all interventions implemented are based on methodical research and data collection where plans and techniques are adjusted as needed.
PBS takes a preventative and proactive approach. We become aware of the environment and make appropriate changes before something occurs. It is a lot easier to alter the environment than to change a person. For instance, if Johnny becomes anxious in a highly stimulated area, bringing him into a calm, soothing environment will decrease his anxiety.
We live, speak, and breathe PBS daily. So stay tuned to learn about the key indicators of PBS and to see how you can implement our universal supports every day.
Leave a Reply