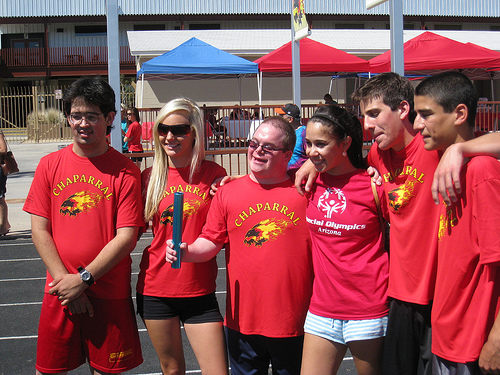 This past Wednesday was World Diabetes Day, an official observation established in 1991 by the International Diabetes Federation and the World Health Organization in response to this growing health threat; particularly with regards to Type 2 Diabetes. In the United States alone it is estimated that some 70 million people are at risk of developing this disease.
Medical studies have found that diabetes occurs more frequently in people with Down syndrome than the general population. Christina Fonseca's abstract to a 2005 study found on Biomedcentral.com says this "may be due to the high prevalence of obesity presented by many of them." The day before World Diabetes Day, Michelle Diament of Disability Scoop reported on a new study from the Netherlands indicating children with Down syndrome are "on average twice as likely as their typically developing peers to be overweight or obese."
While obesity is not the sole factor in the onset of Type 2 diabetes, and sometimes is not a factor at all, the occasion of World Diabetes Day serves as a reminder of the importance of physical fitness and good nutrition. Regular exercise can be a challenge for people with disabilities for myriad reasons, especially as we move into the colder, winter months here in New England.
The Office of Disability Employment Policy's Disability Blog published a guest post from Tim Harris on Wednesday, in which he shared his story in his own entertaining words. The 26-year-old with Down syndrome is a college graduate and owner/operator of the restaurant, Tim's Place, in Albuquerque, New Mexico. Although World Diabetes Day is not directly referenced, Tim's path to success begins largely with a choice to be more active. He writes:
I used to have a lot of problems with my weight. When I'm not being careful, I overeat and spend too much time in front of my TV and my computer… I really didn't like the way I looked or the way I felt. I was very sad about it. So, a couple of years ago, I decided I wanted to be in great shape. With the help of my friends, I made a commitment to working out and eating healthy. It was very hard, but I stuck with it. Over the last three years, I've lost about 70 pounds and I'm in the best shape of my life.
Tim's story is inspiring on a number of levels, but his commitment to integrating regular exercise into his lifestyle has certainly helped contribute to his career success. It is hard for one to be productive when one is not feeling well. More community organizations are developing athletic programs and fitness centers specifically for people with disabilities. Share any that you are aware of in the comments section.
Image by Dru Bloomfield.
Leave a Reply