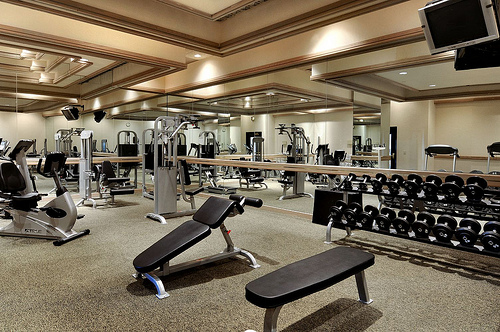 What resolutions are you making for the New Year? In just a couple of days, the calendar turns over, and many of us take it as an opportunity to start fresh on goals that will improve our quality of life.
Resolutions to live a healthier life predominate any top 10 list you'll find: losing weight, drinking less, quitting smoking, reducing stress, eating better, and exercising more are common declarations, and each is achievable with the right goals, motivation, and assistance.
People with disabilities are less likely to exercise on a regular basis than other people, according to a U.S. Surgeon General's report found on the President's Council on Physical Fitness and Sports website. The report emphasizes that consistency of activity is more important than the intensity, and the benefits are mental and emotional as well as physical.
More and more resources are becoming available for people with disabilities to engage in physical activity, as writer Ashley Curtin discovers. Her article in last week's Los Angeles Daily News looks at a few adaptive programs in the metro area that help people like Jeremy Jeffers find exercises they can do. Jeffers, who has one leg and is blind, works out daily with a personal trainer with exercises that include 100 meter dashes and boxing. What he has gained from these workouts goes far beyond the physical improvements, as he tells Curtin:
'I was once insecure about my conditions,' said Jeffers. 'But now that I am working out I am confident about who I am and what I do. Finally, I can be the person I really am and forget about the perception.'
Earlier this year, PennLive.com published a story about a gym in Camp Hill, Pennsylvania, that was created and designed specifically for use by people with disabilities. Since opening its doors in 2008, the Living Well Fitness Center has grown to a membership of 200 and added a second location in Newport, Perry County. Photographer Christine Baker provides a terrific photograph of a man working out on one of the fitness machines specially designed for people in wheelchair while receiving individual guidance from a staff member.
The trainers at the Living Well Fitness Center have specialized training for working with people with disabilities, a key factor to its success, according to some of the members interviewed in the article. Jesse Swoyer, the director of the fitness center, says that connecting people with information and services that help them live better lives is part of the larger goal:
Exercise can be the first step here, but they do more than exercise. People regain strength and improve their quality of life. They gain better balance and better self esteem, build relationships and become independent. A lot of individuals make friendships here. That's all promoted through the fitness center.
Winter weather is no excuse to be a couch potato here in New England. Most, if not all, of the major ski resorts offer adaptive ski and snowboarding programs for people with disabilities. And even though the snow has yet to really fly this year since that crazy October Nor'easter, mountains like Sugarloaf in Maine have had the temperatures to churn out several feet of fluffy powder.
Age of Autism, a daily Web newspaper, ran a press release about the resort's new relationship with Spruce Point, an organization that will provide specialists to work with these people as they learn to ski or ride. As senior program director Sue Murphy points out: "Few sports stimulate the body's motor system and provide much-needed sensory input the way skiing or snowboarding do."
The opportunities are out there for anyone who has the resolve. Share this information with someone you know, or take it to heart yourself, and start 2012 on a healthier, happier path.
Comments?
Image by redlionhoteldenver, used under its Creative Commons license.
Leave a Reply