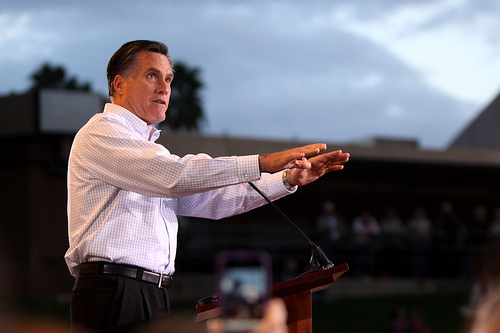 After two days' worth of posts about Paul Ryan and the impact his "Path to Prosperity" would have on people with disabilities, it's important to remember that he is the Republican Party candidate for vice president, not chief executive. And if the HBO series, Veep, holds any kernels of truth about what it's like to be the the commander-in-chief's understudy, a policy-driven politician like Mr. Ryan might find himself frustrated as frequently as that program's titular character, Selina Meyer. Although one would hope he could find a more competent support staff.
The GOP candidate for the leader of the free world is, of course, former Massachusetts governor Willard "Mitt" Romney. As we noted on Tuesday, his campaign aides have yet to provide answers to a questionnaire submitted by the American Association of People with Disabilities (AAPD) regarding Romney's position on employment opportunities, education, health care, and accessibility for people with disabilities; but like Ryan, there is information in the public domain that can help us piece together Romney's platform with regards to these individuals.
Unfortunately for Romney, most keyword searches combining his name and "people with disabilities" turn up results like this Inquisitr.com story by James Johnson from back in March, which contrasts Romney's plan to install a two-story car elevator into his La Jolla, California, residence with decisions he made as governor of Massachusetts to veto two projects that would make public elevators compliant with federal accessibility laws. The scenarios as different as apples and oranges; one is a choice on how a private citizen chooses to spend his money while the other is in the context of a decision-making process on how to best allocate limited resources for the greatest public good. But in a national Presidential campaign where perception quickly becomes reality, some oranges begin to taste an awful lot like apples.
Another veto of benefits for people with disabilities that may come back to haunt Romney occurred during passage of the Massachusetts Health Care Insurance Reform Law. The fact that a state law so similar to the federal government's Affordable Care Act was passed on Romney's watch is what keeps many Republican supporters skeptical of his candidacy and has forced Romney, for all intents and purposes, to disavow what has been largely regarded as a successful program.
GOP hardliners and Romney would probably both appreciate the spirit of this July 25 PoliticsUsa.com article by Dennis S that essentially strips Romney of any credit for the passage of the law that has been dubbed RomneyCare; the substance of it, however, portrays the former governor as continually going against the will of the elected representatives:
His main personal involvement was to veto some key humanitarian components after passage of the final legislative compromise of a house plan, a senate plan and the final consultant consensus. The legislators virtually unanimously jumped on board (only 2 no votes) when health care reform icon, the late Massachusetts Senator, Ted Kennedy gave the end product a thumbs up… Romney contributed 8 vetoes, all of which were overridden by the democratic legislature. Romney didn't want disabled and senior LEGAL immigrants to benefit through Medicaid. To hell with dental care for the poor and let's trash that part of the bill dedicated to funding programs for low-income children. An additional veto related to funding for public health programs.
Two blogs where you can find additional posts about Mitt Romney's policies with respect to people with disabilities are Planet of the Blind, which posted about Medicaid cuts and the specter of the corporate tax rate back in June; and Nick's Crusade, which ran a two-part post back in February regarding Mitt Romney's comments on the "very ample safety net" for America's underserved population.
Please share any additional posts you find about Romney's policies and people with disabilities in the Comments section below. (And to be clear, this is not a partisan blog. I would love to find some positive stories regarding Romney, Ryan, and PWD as a counterbalance.)
Image by Gage Skidmore, used under its Creative Commons license.
Leave a Reply