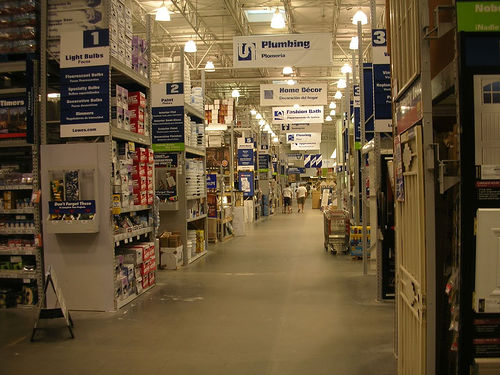 Based on the story of Sarah Cacciaglia we covered in December, it's no surprise to see Lowe's on the National Organization for Disability (NOD) "Fine Nine" list of companies making the hiring of people with disabilities a priority. We've been going through the list since Tuesday, exploring the policies and practices of each company, and as the Business Management Daily story on the list points out, Lowe's has exhibited "a long-time commitment to hiring people with disabilities and builds awareness of the company's job opportunities for people with disabilities."
A Google keyword search of "Lowe's employing people with disabilities" returns about 153,000 results, starting with Lowe's own page of social responsibility awards for the company's dedication to hiring a diverse workforce, which includes the Pennsylvania Governor's Award for hiring 46 workers with disabilities in Lowe's Pittston distribution center.
Distribution centers are one of the primary places where the home improvement retailer concentrates its hiring of people of with disabilities. A hiring notice on Connecticut's Department of Developmental Services Web page details the training program, which starts with a job coach providing hands-on training for a 90-day probationary period. If the employee is able to maintain production levels, he or she becomes a permanent employee, but with the job coach continuing in a supporting role that helps the employee "learn their positions, stay on task and handle social skills training."
The company's track record was the subject of study during the April 2011 U.S. Business Leadership Network's (USBLN) Corporate Disability Employment Summit. Kathy Gurchiek covered the presentation made by Lowe's senior vice president for distribution, Stephen Szilagyi, in an article for the Illinois Department of Human Services newsletter. Szilagyi pointed to one employee in the company Pittston Center, Chad Guerrero, who began as an employee in the shipping department but now trains other workers:
'He's exactly the kind of person you want on your team, but you can't have him. He's ours,' Szilagyi said. It was a refrain he repeated as he told of other successful hires, including a man who exceeds productivity levels in his department despite having Down syndrome, and another with cerebral palsy who has limited use of his left hand. The only real accommodation employers have to make, Szilagyi said, is the change needed in the 'five inches between your ears.'
Szilagyi was also interviewed for the May 2011 edition of the Distribution Center Management newsletter. The articles are only available to subscribers, but a press release on the website, DistributionGroup.com, outlines the lessons Szilagyi says Lowe's has learned through its initiatives to hire more people with disabilities. They include being flexible with the training process while still having the same expectations for performance as other workers making the same wages, with the most critical component being finding the right community partners to identify and train workers.
Lowe's also has a large selection of products that foster independent living for people with disabilities in its Accessible Home department. Everything from safety to mobility to communication assistance is treated with the same style and self-improvement approach as other products.
Comments?
Image by bossco (Raymond Shobe), used under its Creative Commons license.
Leave a Reply