Nothing screams Halloween more than a pumpkin carving contest! The Clinical team and Specialized Housing came together to organize a friendly competition to elicit some supernatural creativity throughout the agency. And what a sPoOkTaCuLaR occasion it was! Pumpkins of all shapes and sizes filled the lobby, decked to the max in Halloween motif. Many branches participated, revealing hidden carving skills in surprising ways.
Specialized Housing created a serene, autumn inspired house-o-lantern down to the very details of a tiny chair crafted out of twigs.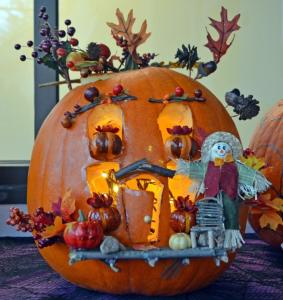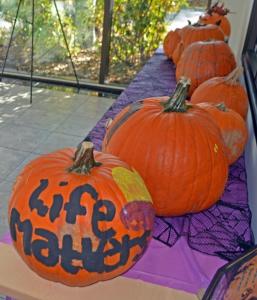 Andover Options Program intricately carved out a spider that appeared to float in the center of their pumpkin. The training department put forth a headless horseman inspired piece, while the residents of Davis Road submitted three different carvings to the contest.  Even a replica of President and CEO Tom Connors' face graced the competition!
The celebration commenced with warm apple cider donuts, colorful cupcakes, and fresh apple cider to wash it all down. Before the festivity came to an end, Guests of the Andover Day program voted for their favorite contender. Although it was a close race, the clinical team came in first place with their "Nightmare Before Christmas" themed pumpkin.
This carving showcased the transformation of an ordinary pumpkin in to an elaborate graveyard scene, complete with Jack in the reflection of the moon, headstones, flying bats, and flashing lights. The second and third place winners were the Business office with the replica of Tom and Specialized Housing, respectively.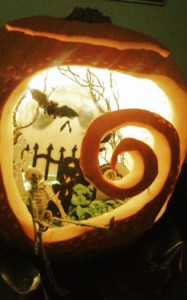 This event is sure to surface again next year, becoming an annual ATI Halloween tradition. Be sure to check out our other annual traditions on the American Training website!
Leave a Reply