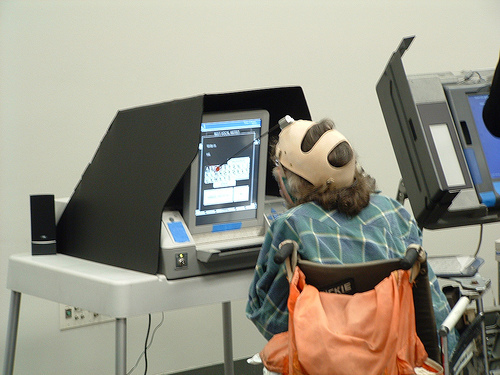 While making a short film about a disabled student's journey to vote in the 2012 election, two Pennsylvania filmmakers discovered widespread problems with the accessibility of voting facilities in their community. That revelation had led to a deeper exploration of the subject in a new, short-form documentary simply entitled, "VOTE."
The debut screening of "VOTE" takes place this evening at Misericordia University, according to Shawn Kellmer's story in the Web edition of the college's newspaper, The Highlander. Both of the filmmakers, Dr. Melissa Sgroi and Dan Kimbrough, are members of this small Catholic university's communications faculty. Kellmer writes that Sgroi's doctoral research involved issues surrounding people with disabilities and the media, so it was a natural project for her to focus on. Sgroi enlisted Kimbrough to help with the making of the film when she realized "it was a story best told visually."
Indeed, in just one minute and change, the trailer for "VOTE" illustrates several problems with accessibility at the five polling stations Sgroi and Kimbrough visited on November 6, 2012. But the barriers are not only physical. When Sgroi queries officials at the precincts about the lack of accommodation for people with disabilities, it is clear the notion they are making it difficult for citizens to exercise their constitutional right — and perhaps even preventing them, in some instances — had never even crossed their mind.
"VOTE" Trailer from Communications @ MU on Vimeo.
To their credit, the two gentlemen included in the trailer seem genuinely concerned about the violation. "In years past, no one's ever made a complaint," one of them says, proving the old adage about squeaky wheels getting the grease. Whether it's Sgroi, Arkansas blogger Elaine Canady, or the USA TODAY, people with disabilities and their advocates need to make sure their communities are aware that individuals with these needs are part the population. They also need to make sure to let voting officials konw, as Sgroi does, that the remedies need not be painful. She tells Kellmer:
Most of these voting places, if not the majority of them, are in inaccessible places simply because of the age of the buildings. There isn't a lot you can do when we have to use a very old structure… It comes down to education. Do we just provide a helper outside, for instance? Do we put a piece of plywood down, for instance? […] It doesn't have to be major construction to solve these problems.
Communities that do put resources into accessible voting for people with disabilities are rewarded with high turnout from these individuals, as was proven in Elizabeth, New Jersey, during the last election cycle. Use the comments to share your thoughts on how voter turnout makes life matter more for people with disabilities and how it might be improved in your locale.
Image by joebeone (Joe Hall).
Leave a Reply