"Choose a job you love, and you will never have to work a day in your life."                                                         –Confucius
StarWorks has been super busy this spring, making dreams come true with our WOW! Magic!
We helped place 17 Guests into gainful community employment! That's about a third of the department's YEARLY Goals! Our Guests' new jobs range from retail and hospitality to motorcycle dealerships. Our Guests are excited about their new careers, and we are thrilled to be a part of their success.
One young woman named Ashley was referred to us by Patricia Commane of the Massachusetts Rehabilitation Commission for job placement services.  With Career Counselor Carol Smith's help, not only did Ashley get a job at Sutton Hill Center as a Dietary Aide, which is the job of her DREAMS, but she was able to earn a ServSafe Certificate through a program at Lazarus House.
StarWorks was able to provide her with continued support, while she went through this exciting journey!  Way to go Ashley!  Carol and Denise Michaud, the StarWorks Program Director, attended Ashley's graduation at Lazarus House on May 8.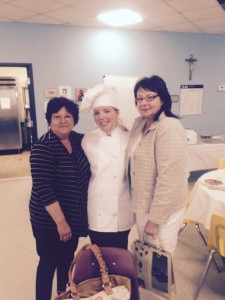 Ashley continues to be motivated by continuing her training and education and said "I already spoke with Steve about finishing classes, and I will be able to work more hours starting next week".  We're so proud of Ashley for passing this test, and living her dream.
The StarWorks team is devoted to the Guests we work with on a daily basis. Our greatest motivation is to see Guests like Ashley reach or exceed their employment goals, and to witness their increased pride and self-esteem as a result of working with StarWorks.  Because of the WOW! Magic, teamwork, dedication, and determination to be the best we can be,  StarWorks has been able to make our Guests, and the entire American Training family's dreams come true!
Find out more about StarWorks and how we can serve you here.
Leave a Reply