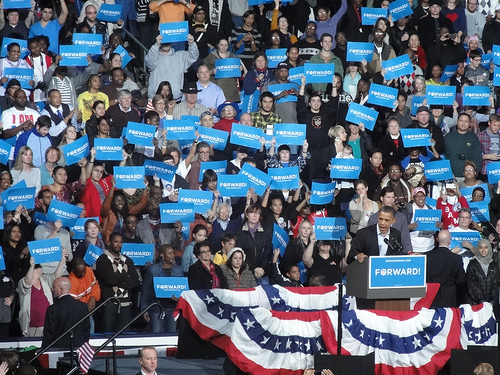 As election night turned into election morning, I realized it would not be possible to stay awake through President Obama's victory speech. I remained alert enough to see Governor Romney accept the outcome more graciously than other conservatives (cough… Karl Rove… cough), but my eyelids closed soon after the President walked on stage with his wife and daughters to the sounds of Stevie Wonder's, "Signed, Sealed, Delivered."
It was a good speech, if one believes the host of the local radio program to which my alarm clock is set. Pretty much the first thing I heard Wednesday morning was a replay of the President's all-inclusive summation of populations that give credence to America's notion of being a "melting pot." The full transcript of which can be found many places, including here on The Wall Street Journal blog, Washington Wire:
America, I believe we can build on the progress we've made and continue to fight for new jobs and new opportunity and new security for the middle class. I believe we can keep the promise of our founders, the idea that if you're willing to work hard, it doesn't matter who you are or where you come from or what you look like or where you love. It doesn't matter whether you're black or white or Hispanic or Asian or Native American or young or old or rich or poor, able, disabled, gay or straight, you can make it here in America if you're willing to try.
Yes, people with disabilities are part of the President's vision of the American dream. Obama used practically the same inclusive language at the start of his 2008 acceptance speech and I'm sure many other U.S. Presidents also have done so. Now comes the work to make the vision a reality.
As with many other promises from 2008, the Obama administration has fallen short of delivering on its intentions to help make life matter more for people with disabilities. The executive order to add 100,000 federal employees with disabilities by 2015 is not progressing on schedule, according to the Government Accountability Office. The GAO has also scrutinized the agencies that provide career training and employment opportunities to people with disabilities and found them to be some of the more prominent examples of wasteful spending.
What's more, both the updated accommodation requirements of the Americans with Disabilities Act and a Labor Department proposal to have federal contractors track recruiting of people with disabilities were met with such resistance from the private sector that each issue was effectively tabled in order to avoid political squabbling in an election year.
But the election is over, mercifully. Now it is time for the country that President Obama called "the most diverse nation on Earth" early Wednesday morning to open its arms a little wider and embrace the more than 50 million Americans with disabilities who walk among us.
Comments?
Image by Becker1999.
Leave a Reply