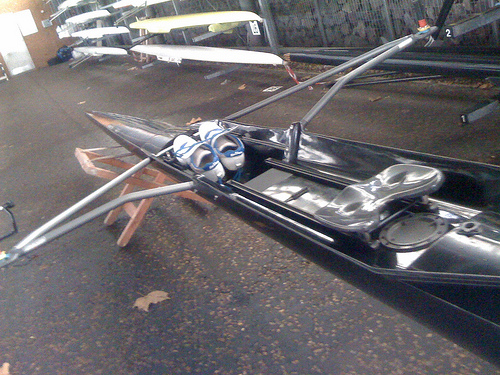 Picking up where we left off yesterday in the examination of the Boston Globe online feature, "Products made in Massachusetts," to see which ones might provide good employment opportunities for people with disabilities.
Alden Rowing Shells
This Boxborough manufacturer of recreational and competitive rowing shells and accessories is frequently credited as making the sport accessible to people with disabilities. The page of adaptive equipment on the company website includes photos of U.S. Paralympians Anthony Davis, Jacqui Kapinowski, and Laura Schwanger using the gear. Holly Parker's article in the March 2008 edition of Northeast Boating Magazine (PDF) reveals that owner Ed Jarvis was motivated to make adaptive rowing equipment after his son's eye was blinded during a high school basketball game. Park writes:
The accident inspired Jarvis to use athletics to give back to the disabled community… Every September he travels to Philadelphia to see his work in action at the Bayada Regatta… [Jarvis says:] 'It's physical and emotional therapy. I get to hand out the medals, but I have to wear dark sunglasses. It's really an emotional event.'
EMC Corp.
The Hopkinton-based maker of cloud computing technology earned a "Disability Matters — Best Workplace Award" in 2011. An interview with chief diversity officer Jackie Glenn on the Diversity/Careers website illustrates their commitment to a number of affinity groups. The verbiage and tools used on the company's Human Resources Web pages is likewise inclusive, including a form (PDF) for individuals with disabilities to voluntarily self-identify as such, and a 17-page accessibility guide (PDF) for attendees to its 2011 EMC World conference in Las Vegas.
In reality, any of the 33 manufacturers listed would offer several viable job opportunities for people with disabilities. But the seven we've listed since Monday are the only ones making an active effort to reach out to these individuals. The nearly 80% of the companies listed that do not do so is indicative of the steep hill faced by advocates who believe employment is the key to making life matter more for people with disabilities. (Coincidentally, this is almost the same percentage of people with disabilities who are left out of the labor force, according to Zach Baldwin's latest AAPD Power Grid Blog post.)
This reinforces the importance of the efforts being made by National Organization on Disability president Carol Glazer, National Governor's Association chair Jack Markell, Walgreens, Iowa senator Tom Harkin, and many other individuals and entities who want to make hiring people with disabilities a priority in 2013. When it comes to raising awareness about people with disabilities as an viable talent pool for contract manufacturing jobs or any other type of work, there is still much work to be done.
Comments?
Image by msmornington.
Leave a Reply