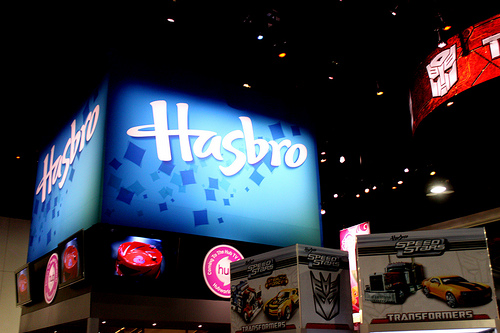 Advocates for people with disabilities have focused a great deal of their recent efforts to boost employment opportunities for these individuals on the manufacturing sector. Labor Department officials and business leaders across the U.S. worked hard in 2012 to make the case that hiring these individuals, either through contract service organizations or as full-time employees, was of direct benefit to a company's bottom line as well as a way to boost the U.S. economy.
One piece of content from "The Globe 100: The Best of Massachusetts Business 2012" that's not behind Boston.com's paywall is the photo slideshow of "Products made in Massachusetts." It's heartening to see that so many recognizable brands and cutting-edge products are being made right here at home.
With 100,000 good manufacturing jobs projected to be available in the state over the next 10 years, which of these companies might be a good fit for people with disabilities? Let's take a look.
Hasbro, Inc.
While the venerable toy and game manufacturer has been mired in a very strange controversy over whether or not one of the characters in its My Little Ponies animated series has a disability — and, if so, whether or not that portrayal is insensitive — working in the East Longmeadow facility seems to be a welcoming environment for employees with disabilities. The corporate diversity and inclusion statement is inclusive of this population and its commitment to flexible work arrangements is also given prominence on this part of the site. Hasbro was named to the Fortune magazine "100 Great Places to Work" list in both 2011 and 2012, and the type of focus required for the assembly line work humorously described by CNNMoney contributor David Kaplan seems to play to the strengths of many employees with disabilities:
On a conveyor belt that mercilessly keeps advancing to my left comes open Monopoly box after Monopoly box. My dual task — every 1.81 seconds, give or take an instant — is to place a plastic bag of dice and game tokens in a tray, while also ensuring that each box includes a container of 12 hotels and 32 houses, instructions, and a shrink-wrapped stack of money. I know just how Lucy and Ethel felt when they couldn't keep up with the chocolates at the candy factory — except I can't stuff the accumulating boxes in my bra.
HP Hood
Agawam is home to one of 22 domestic manufacturing facilities for this Virginia-based dairy producer. According to the slideshow, this plant churns out approximately 120,000 plastic milk jugs each day. All of the various job listings include "reasonable accommodation to perform essential functions" language and provides contact information to Human Resources for people in need of alternatives to the online application process. Hood's corporate information also includes an explicit policy statement (PDF) "to eradicate slavery and human trafficking from its direct supply chain," which fosters a culture of outsourcing to Americans versus sending low-skill jobs overseas.
We'll look at more employment opportunities for people with disabilities in Massachusetts manufacturing operations tomorrow. Share any comments you have below.
Image by Gage Skidmore.
Leave a Reply