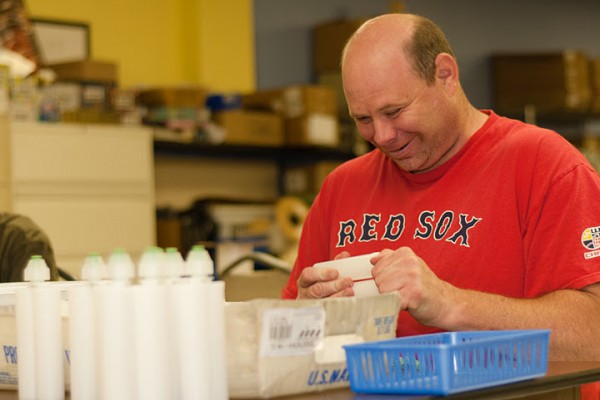 Credit for the post title goes to Pam Klink. Her Turnabout Cafe in Owings, Maryland, is one of several stories about people with disabilities succeeding in the work force found in the Southern Maryland News Online article, "Out of the shadows and into the workforce," which was initially touched upon in yesterday's post about new leadership in the Maryland Developmental Disabilities Administration.
Pam founded the Turnabout in 2008 as a nonprofit but it now successfully sustains itself as a private enterprise. She tells writer Jeff Newman that she still considers it her "mission" to employ people with disabilities, and lately she has been thinking about how to do that beyond the cafe. Klink feels the privacy laws that govern human resources during the hiring process can negatively affect the decision to hire a person with disabilities, in a sadly ironic twist:
Klink said she knows several 'high-functioning, capable students' who have not gotten jobs because an unknowing employer thought they were 'quirky,' mistaking their disability for disinterest, immaturity or rudeness. 'Particularly when you're talking about high-functioning people with disabilities, it would help if organizations could disclose the disability so prospective employers knew about it up front,' Klink said.
Klink suggests companies institute short-term programs that allow people with disabilities to gain work experience while the businesses learn the same lesson she did: You can train these people to fulfill any number of hands-on tasks but, above all, you will be impressed by their dependability.
Suzanne Hall is one of the Cafe Turnabout employees Pam would categorize as "high functioning" and "capable." For three years she's enjoyed the bustle of a work place that lets her hobnob with co-workers and customers while busing tables and prepping the kitchen. But just like Klink, she worries that employers underestimate people with disabilities, telling Newman:
During a short stint working at the Holiday Inn in Solomons, Hall said she was 'amazed' by what a co-worker with Down syndrome could do, and that it even 'changed my opinion' of people with more severe disabilities than her own.
Newman also talks to Adam Cornelison, who followed Klink's proposed model for hiring people with disabilities to the letter by turning a volunteer position at an area True Value hardware store into a paid, part-time position. Cornelison's ability to learn and apply manual skills are evident not only in the merchandise stocking and assembling duties outlined in Newman's portrait of him, but also in his hobbies and aspirations:
When he isn't working, Cornelison said he likes to build model cars and work on real ones. He also attends a basic automotive training class offered by the Calvert County Parks and Recreation department.
Have you used ATI's StarWorks program to explore career options that match your skills and interests, or any of its training services that help you search, apply, and interview for a job? Tell us about it in the comments.
Image by Paige Connors of American Training, Inc.
Leave a Reply