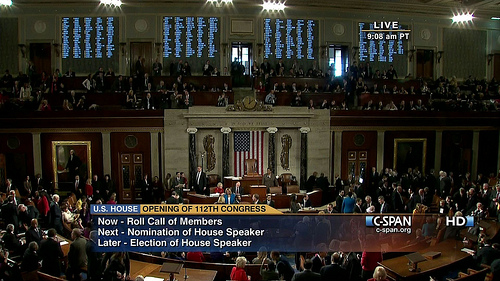 Nearly every national issue the media covers gets defined by which politicians are in support of or in opposition to it; and while we're in an election cycle, it seems as if every issue, great and small, is a dividing line between the two major U.S. political parties. So it was refreshing to read guest blogger Leah Katz-Hernandez's post, "Disability — The Unifying Issue" on the American Association of People with Disabilities (AAPD) Power Grid Blog earlier this month.
Katz-Hernandez is currently a fellow for Youth Transitions, Inc., a Tennessee-based organization that provides life skills and career training for people with disabilities that are focused on food service and food preparation. Through her fellowship, Katz-Hernandez says she has the opportunity to speak to federal lawmakers on both sides of the aisle about the importance of employment for people with disabilities, and that her voice has enthusiastic support from Democrats and Republicans alike. The reason is very simple:
Disability is not a dividing issue, because disability does not discriminate. Everybody will be affected by disability at some point in our lives — it's only a matter of when. The disability community is the ONLY minority community that anyone can join at any time in their lives. In the enduring words of Lawrence Carter-Long, 'Step off the curb the wrong way — bam. Welcome to the club.'
The bipartisan seal of approval for encouraging jobs for people with disabilities bodes well for the goals of AAPD leader Mark Perriello. Back in December, we noted that he has made fairness of workplace opportunities a key focus area, and that the key tactic for achieving it would be grassroots lobbying of state and federal legislators. He made an appearance at a Disability Day rally that took place on the steps of the Georgia Capitol building in February, which came at a time when Governor Nathan Deal was trying to draw more manufacturers to the state.
Of course, ideological harmony is far down the list of the bottom-line benefits of employing people with disabilities. "With a paycheck, we are able to be independent socially and economically," Katz-Hernandez writes. Whether it's as an employee or through contract services, businesses can make life matter for a person with disability by giving them the opportunity to show they can be productive workers and live independently.
Comments?
Photo by C-Span Community, used under its Creative Commons license.
Leave a Reply