Above, Rose Cleveland, CFO, receives her award for 35 years of service at American Training, Inc. To her right is Tom Connors, President and CEO; and Ronald Fanion, Director of Vanway, who also received an award for 35 years of service.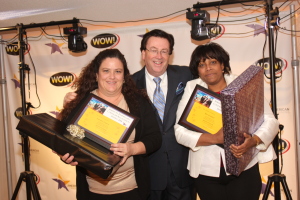 Jennifer Laurin, Staff Accountant at American Training, Inc. is presented with an award for 25 years of service by President and CEO, Tom Connors. Also receiving the 25 year service award is Ylsa Grullart, Developmental Specialist
What Is A WOWzer!?
Your first question might be;  "what is a WOWzer!?"  To sum it up, it is a special award given to American Training Colleagues in recognition of their dedication and unwavering commitment to our outrageously memorable Way Of Working.  The Business Office is proud to say that we have two women who were given this award at our annual Colleague Recognition Awards Dinner on November 14, 2014: Rose Cleveland and Jennifer Laurin.
And The Award Goes To . . .
In addition to working their WOW! Magic at the Business Office's annual Tie Dye Day, Rose and Jenn have 60 years of service between them (Rose 35 years; Jenn 25 years) in finance and accounting at American Training.  They received longevity awards, which are given to American Training Colleagues beginning at two years of service and continuing at the 5, 10, 15, 20, 25, 30 and 35 year marks. (We've been around since 1979.)
Keep Those Awards Coming
This year Carmen Concepcion and Joyce Pharmes, also from our very proud Business Office received awards for 10 and 5 years of service, respectively.  Additionally, we have four other members of the Business Office with almost twenty four years of service among them.  This is a testament to the loyalty and commitment our Colleagues feel for our office and the entire American Training family.  Now that's a WOW!
Leave a Reply