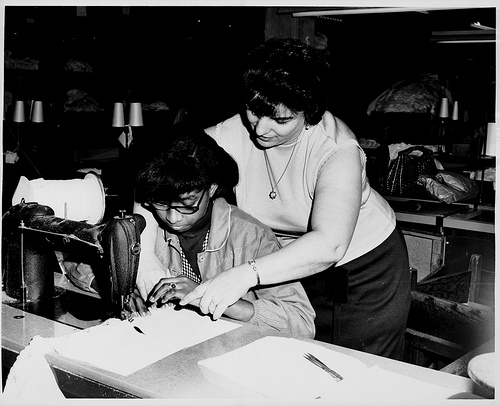 New Jersey's Daily Journal published an op-ed by Department of Human Services Commissioner Jennifer Velez following Governor Chris Christie's announcement of the state's new "Employment First" policy for people with disabilities, where "benefits become the safety net that will supplement employment, not the other way around."
No one welcomes this shift in attitude more than individuals with disabilities themselves; who just want the opportunity to show they are dependable and capable. Velez acknowledges this in the op-ed title, "Changing People's Perceptions," and writes:
We know that competitive, integrated employment provides diversity, a sense of purpose, a sense of achievement, a level of financial independence and a sense of belonging. Work is a touchstone by which we often measure ourselves and measure others. The fullness of that experience is something to which we're all entitled.
Velez goes on to outline goals focal for "Employment First," one of which is dispelling the myth that hiring people with disabilities means spending an exorbitant amount of money on accommodations and accessibility measures. The Job Accommodation Network (JAN) has been conducting cost-benefit analyses on these types of issues since 2004, with more than half of the surveyed employers reporting that there were zero additional costs associated with workplace accommodation; and for those that did have to spend money on accessibility features, the average one-time expenditure was $500.
But for those who prefer their evidence in anecdotal form, Voice of America correspondent Mana Rablee filed this report about a Lansing, Michigan, sewing factory called Peckham, where 85% of the 1,200 employees are individuals with disabilities. The video shows how sewing machines were adapted so that even visually impaired people can safely and efficiently operate the equipment.
One would think the types of accommodations needed for manual labor tasks would be more onerous than an office job. But if a sewing factory that outputs 300,000 garments a month can afford to make the necessary accommodations that allow people with disabilities to work, then almost any size company should be able to provide an accessible workplace.
JAN of course has quantified all the direct and indirect benefits of accessibility, including employee retention, productivity, diversity, safety, and even profitability; all while making life matter more for individuals with disability, as Peckham's Greta Wu tells Rablee:
You don't get to work, you don't get to enjoy that you are contributing to the society… But when you do have work your self-confidence is built up, your self-esteem is increased, you feel good about yourself.
Comments?
Image by Kheel Center, Cornell University, used under its Creative Commons license.
Leave a Reply