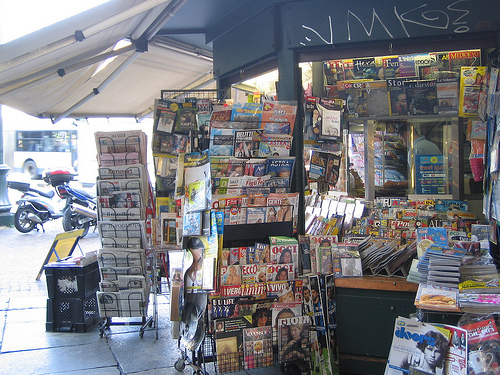 With yesterday's anniversary of the American with Disabilities Act (ADA) being signed into law came the expected plethora of news stories about how people with disabilities are faring under its statutes 22 years later. While some articles focused on the equal accessibility of services and requirements for public accommodation that most people associate with the ADA, there were some important voices turning attention toward the need to put employment first as the best way to make life matter for these individuals.
As has been noted before, Judy Woodruff provides coverage of people with disabilities both in her role as correspondent for PBS Newshour and on the network's blog, The Rundown. She marked the 22nd anniversary of the ADA with "A Call to Focus on Finding Jobs for Those With Disabilities" post that recapped many of the recent stories being followed in this space, including Senator Tom Harkin's (D-Iowa) report to the health, education, labor, and pensions committee about making employment of people with disabilities a national priority, Delaware Governor Jack Markell's efforts to boost employment for these individuals as the newly elected chair of the National Governor's Association, and the hiring initiative by Walgreens that is simultaneously improving workforce diversity and productivity.
Most notably, Woodruff begins her essay wondering if people with disabilities should "hold the celebration" given recent dismal employment figures; but closes on a hopeful note that "the word is starting to spread" and invites employers to share success stories of hiring people with disabilities via Twitter, @judywoodruff. We hope this results in a spate of content for future reports by Woodruff.
Over at FederalNewsRadio.com, reporter Jolie Lee's article, "Fear hinders hiring people with disabilities," provides links to several tools developed by federal agencies to aid with the recruitment, hiring, and retention of employees with disabilities. Lee also spoke with assistant secretary of Labor for the Office of Disability Employment Policy (ODEP) Kathleen Martinez for her story, who points out that accommodation is a natural part of how businesses equip employees with the necessary tools to do their jobs:
Really, agencies are making accommodations all the time for all employees, Martinez said. For example, take BlackBerries or ergonomic chairs.'These are all accommodations. It's just that when you're disabled, there's the fear factor that gets in the way, and if you ask for anything, people say, Oh my god, a person with disabilities is costing more. But we all cost something because we're all an investment,' Martinez said.
Even local news stories like this one from Claire Taylor of The Advertiser in Lafayette, Louisiana, include an appeal for more job opportunities. Taylor gets takes on the progress made toward accommodation by officials from the parish government and the University of Louisiana, Lafayette, which has a student population of more than 16,000 and employs hundreds of residents. Both agree that more needs to be done but contend they are doing their best to comply with ADA guidelines for accessibility and accommodation.
Meanwhile, Donielle Watkins, chairperson of Lafayette's President's Awareness Committee for Citizens with Disabilities and director of the DREAMS Foundation of Acadiana, a program that provides activities for children with disabilities, tells Taylor that employers just need to be made aware of the advantages of hiring people with disabilities, which include job loyalty and a federal tax credit. Taylor writes:
Watkins knows what she's talking about. She has a 17-year-old woman confined to a wheel chair doing accounting work for her. It's one of Watkins' missions to get local businesses to hire 'all kinds of individuals. […] They can answer phones. They can wash the fire trucks,' she said. 'I have one kid who would love to do that once a week. That would be his mission in life, to make sure that fire truck was clean.'
Make it your mission to help provide career training and job opportunities for people with disabilities by sharing stories like these with business owners in your community.
Comments?
Image by Signe Karin, used under its Creative Commons license.
Leave a Reply