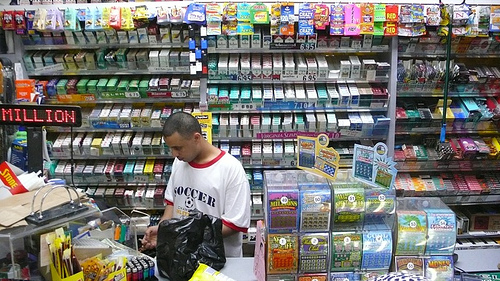 America's largest drugstore chain continued its commitment to employing people with disabilities with Monday's announcement of a new customer service training program, the National Retail Employees with Disabilities Initiative (REDI).
According to the press release, Walgreens has operated a pilot version of the REDI program in Texas for the past couple of years. Following its success there, the program expanded into New York and Connecticut. To date, more than 400 people with disabilities have acquired the various skills to work in a retail setting. Walgreens will now expand the program into a dozen more states, including here in Massachusetts, and plans to expand the program nationwide by the end of 2013.
REDI partners store managers with job coaches and employment candidates from community organizations and vocational rehabilitation agencies. When individuals with disabilities successfully complete the four-week program, they receive a "recommended for hire" status applicable beyond Walgreens, the press release explains:
The goal is to prepare qualified candidates for employment in store positions, as well as positions in any retail setting that requires similar skills. Responsibilities include cash register operations, customer service, merchandising, store inventory and maintaining store signage and displays.
Walgreens is already a model employer for people with disabilities. Earlier this year the company achieved a stated goal to have 10% of the total workforce in its 20 distribution center comprised of people with disabilities. When it announced the hiring or Rueben Slone as senior vice president of supply chain management last month, the press release pointed to his experience working with Aspire of Illinois as a key reason he was selected to take over the company's logistical operations; where people with disabilities perform a variety of duties, including assembly, sorting, packing, and shipping. Now Walgreens will attempt to reach that same 10% number for the front of its stores, which number 7,855 in total across all 50 states, the District of Columbia, and Puerto Rico.
Retail environments require a different set of skills than warehouses. In addition to the interpersonal relations with customers, a cashier may have to collaborate more with a co-worker to help meet the needs of a customer. There may also be a greater variety of tasks to perform whereas a warehouse worker might do the same thing day in and day out.
As we learned yesterday, these interactions can be more of a challenge for some individuals with disabilities than others. But if you recall the story of Sofia Walz-Chojnacki from this post back in December, Walgreens has a knack for finding people who are ready for REDI.
Comments?
Image by chokola, used under its Creative Commons license.
Leave a Reply