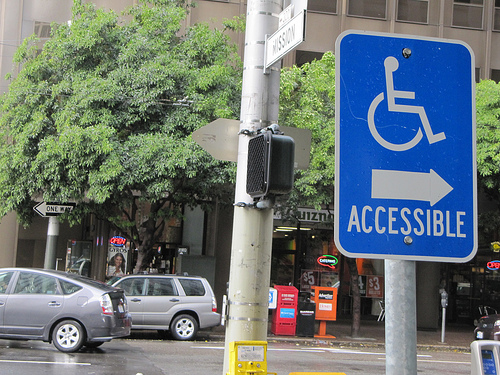 Creating an accommodating work environment is probably the most crucial aspect of any successful initiative toward recruitment and retention employees with disabilities. A workspace must be navigable and the equipment must be accessible in order for these employees to perform to the level of expectation set forth by the employing organization.
Section three of the ODEP's new publication, "Business Strategies That Work: A Framework for Inclusion" (PDF), entitled, "Ensure Productivity:Reasonable Accommodation," almost immediately jumps past the legal definition of "reasonable accommodation" to dispel the commonly accepted myth that making such adjustments would incur exorbitant costs:
According to the Job Accommodation Network (JAN), more than half of all accommodations cost nothing. Furthermore, JAN's statistics show that most employers report financial benefits in the form of reduced insurance and training costs and increased productivity.
We've linked to the JAN website numerous times in this blog, and resources for many of the suggestions made in "Business Strategies That Work" can be found under the Private Businesses portion of the site, including phone and email contacts to reach a JAN representative. But where a site like AskJan has the opportunity to make expansive suggestions based on type of disability, "Business Strategies That Work" addresses some fundamental practices related to administrative mechanisms and workplace training that can ensure requests for reasonable accommodation are tracked, implemented, and measured for effectiveness.
The issue of accommodation is also part of the Bloomberg BNA article we referenced yesterday with regards to employees with disabilities self-identifying as such during periodic, private surveys. Business consultant Lydell C. Bridgeford interviews Tom G. Wells, director of the Baltimore-Washington district office of the Labor Department's Office of Federal Contract Compliance Programs (OFCCP) about the proposed rule for federal contractors to have 7% of their workforce comprised of people with disabilities. Wells ties the issues of self-identification and accommodation together by making the point that "in many cases, self-identification may lead to reasonable accommodations that the employee might not have pursued before."
Another key point in the section is raised in bullet point four, which addresses "training for executives, managers, and line staff about new strategies and devices, such as telework and assistive technologies." Accommodation has never been more readily achievable than it is now, with the rapid technological advances being made; however, the pace at which its progressing makes just keeping on top of the latest and greatest a challenge. Organizations that dedicate time for personnel to attend annual events like CSUN or AbilitiesExpo (which is in Chicago this weekend) will find no end of ideas to implement into their workplace accommodation plans.
Comments?
Image by Mike Gifford, used under its Creative Commons license.
Leave a Reply