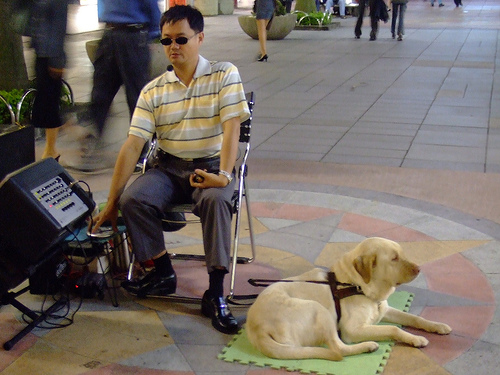 For anyone wondering just how much people with disabilities are capable of contributing to the workforce, a study published by the University of Buffalo Regional Institute in the last quarter of 2011 revealed some encouraging quantitative and qualitative results about blind and visually impaired people in the state of New York.
The study, which specifically looked at goods and services produced for government agencies, indicated direct sales revenues of over $88 million and the creation of 900 jobs, with an additional $80 million and 266 jobs from spinoff activities. The University of Buffalo press release picked up by PhysOrg.com earlier this month goes on to project the creation of 400 new jobs for these people and a $355-million impact on the state's economy by the year 2016.
Types of jobs include a wide variety of manufacturing and assembly duties, including machine operators, mailbag sorters, and packing clerks. The study's Executive Summary (PDF) also notes that the job training provided to these people with disabilities serves as a career springboard:
Advancement within agencies is common, and 7 percent of employees who are blind eventually obtain jobs outside the agency in the public or private sectors.
The Executive Summary also makes note of the number of women and ethnically diverse workers among the 900 employees, and reinforces that point through several of the 14 "Behind the Numbers" profiles scattered throughout the 30-page report.
One such individual is Mecca Meeks, a 31-year-old document-packaging fulfillment clerk in Rochester, who "shut himself off from life" after losing his sight. Meeks worked in shipping and receiving prior to his condition, and the career training he received helped him get back on track to the point that he anticipates transitioning into a supervisory role one day.
Then there's 64-year-old Charlotte Laramie, who has been a machinist at an Albany manufacturing plant for nearly 30 years. She is totally blind but performs critical tasks that include putting reflective edging, labels, and belts onto New York City Transportation Authority safety vests and sewing safety flags. Laramie is also captain of a team that competes in the Upstate New York Blind Bowling Association.
In the report's conclusion, the authors make specific mention of the success of their initiative in an era when many businesses are contracting with labor forces overseas. They call for a greater observance of the preferred-source law in New York state as a way of outsourcing these jobs back to some of the 100,000 blind New Yorkers without employment:
With the right training, supports and work opportunities, many of these individuals could be gainfully employed…This population represents significant untapped potential not only for driving the state economy but for building economic independence and improving the quality of life for New Yorkers living with blindness.
Comments?
Image by saturnism (Ray Tsang), used under its Creative Commons license.
Leave a Reply