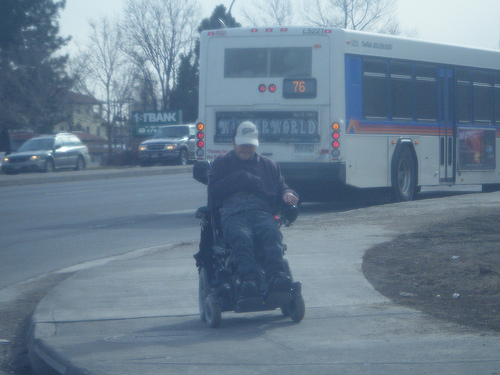 If you're the type of person who woke early this morning to take advantage of the Black Friday bargains, please respect the parking spaces reserved for people with disabilities.
The temptation to take that vacant spot right next to the mall entrance is understandable after circling the lot for the fourth time; but keep in mind that these parking spaces are designed to provide more width than conventional spaces so people using wheelchairs can easily get in and out of their vehicles.
In Illinois, apparently enough holiday shoppers illegally park in accessible spaces that Secretary of State Jesse White issued an announcement that state police will be cracking down this year, starting today. "Parking illegally in a space reserved for those who are disabled will mean more money will be spent on fines and less toward gifts," said White a statement published in the Geneseo Republic.
Transportation for people with disabilities has been a hot topic of late in the Land of Lincoln. Back at the beginning of October, Chicago Regional Transportation Authority Chairman John Gates, Jr. referred to the city's paratransit service, known as Pace, as "federally mandated limousine service" in the Daily Herald. Richard Wronski of the Chicago Tribune was at the RTA board meeting one week later when three individuals with disabilities confronted Gates, calling his remarks "ill-informed and […] ignorant."
In truth, the 50,000 residents of Chicago and its suburbs who use Pace to commute to their jobs or run errands share rides on minibuses and vans operated by contract carriers. Federal law requires that the fares remain affordable, so the service loses money for the RTA. But even so, the $136 million budget for Pace accounts for just 3% of total annual RTA costs, making it far from an extravagance.
On the other hand, the Chicago RTA is making a concerted effort to improve accessibility of taxi services. Vince Dixon's article in Tuesday's edition of Medill Reports Chicago, a publication of the Medill School at Northwestern University, says $1.7 million has been earmarked for a program aimed at reimbursing companies who add accessible taxis to their fleet of vehicles. The article includes a short video demonstrating the technology, which Jennifer Lipford, director of communications for the city's Department of Business Affairs and Consumer Protections, anticipates will be used in an additional 130 cabs citywide. She tells Dixon:
It's now a good business decision for taxi owners to put these vehicles on the road… Not only are they getting reimbursed for the cost, but wheelchair accessible vehicles are the only taxis that are allowed five years on the road, plus extension if they pass all the vehicle inspections.
Share in the comments how accessible transportation has helped make life matter more for you or people with disabilities that you know.
Image by bradleygee (Bradley Gordon).
Leave a Reply