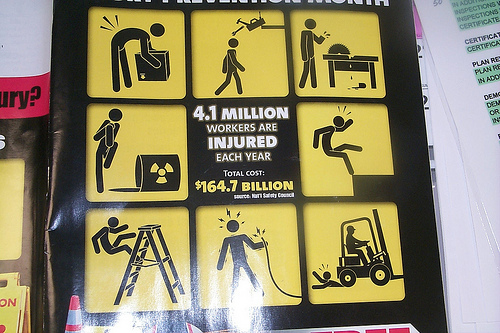 A recent study of Walgreens distribution centers by the American Society of Safety Engineers indicated significant improvements in workplace productivity since the national drugstore chain has begun its initiative to hire people with disabilities five years ago.
Results of the study were included in a Fast Company magazine article by Sara Cann that explored the ongoing debate over the U.S. Department of Labor's proposed rule to require companies seeking federal contracts to have 7% of its workforce comprised of people with disabilities. Currently, this population accounts for 10% of the employees in Walgreens' 21 distribution centers, and it's no surprise the company hopes to double that figure considering the results that Cann reported:
A study of [Walgreens] distribution centers by the American Society of Safety Engineers found that workers with disabilities had a turnover rate 48% lower than that of the nondisabled population, with medical costs 67% lower and time-off expenses 73% lower.
Cann and photographer Lisa Kereszi visited the Walgreens distribution center in Windsor, Connecticut, to speak with employees with disabilities as they enthusiastically performed sorting, packaging, and other assembly line duties. This facility was built in 2007 specifically to carry forward Walgreens' hiring initiative. Persons with disabilities make up about half the staff here, and Cann is told it is "the company's safest, most productive warehouse."
In searching for reasons why the Walgreens' model is so successful, Cann comes into contact with Heather Davis, who founded a program that employs 24 people with disabilities at the financial services firm, TIAA-CREF. Davis, who is the mother of a child with autism, points to the population's "ability to focus on repetitive tasks for long periods of time." Such reliability is a much sought-after skill in manual labor work, says Davis.
Other companies mentioned by Cann as benefiting from hiring people with disabilities include Microsoft, Home Depot, and AMC Theaters, the latter of which earned the U.S. Business Leadership Network "Lead Employer of the Year" award in 2011 for doubling the number of individuals with disabilities in 70 of its nationwide locations. Andy Traub, the recruiting director for AMC's Furthering Opportunities Cultivating Untapped Strengths (FOCUS) program, tells Cann the theater chain's success is a result of working with these individuals in a way that focuses on what they can do, rather than what they cannot:
A traditional interview involved asking applicants about prior work experience, but many people with disabilities have never had a job. Instead, AMC started walking applicants through the building to show them what their responsibilities might be. By gauging the candidates' reactions to various tasks, AMC can match employees with a job that best suits them.
Despite so many examples of success, Cann writes that the private sector is still resistant to the federal government's resolution for hiring people with disabilities proposed one year ago. An unnamed spokesperson for the Labor Department would only say "they're working on it."
Comments?
Photo by Anosmia (Jennifer Boyer).
Leave a Reply