Many of us wish we had the time and energy to go back to school and further our education. Judy Wachaga, a Colleague from Mass Ave., did more than just wish; she WOW!ed! Judy recently received her Certificate of Completion in the Direct Support Program in Human Services from Middlesex Community College. The training she received at MCC will help her in her career at ATI.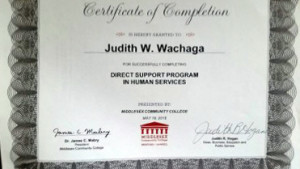 According to the MCC website, the Certificate in Direct Support teaches students theory and helps develop the skills needed to provide direct client services in residential or vocational programs, with the goal of improving the quality of life of the clients and helping them achieve maximum possible self-sufficiency.
Direct Support practitioners work directly with individuals with intellectual or developmental disabilities. Having a strong desire to help people as well as sensitivity, patience and flexibility are keys to success. 
It was not easy for Judy to pursue this challenge, but she persevered. We congratulate her on a job well done! We are so proud of her. Share your kinds words for Judy below!
Leave a Reply