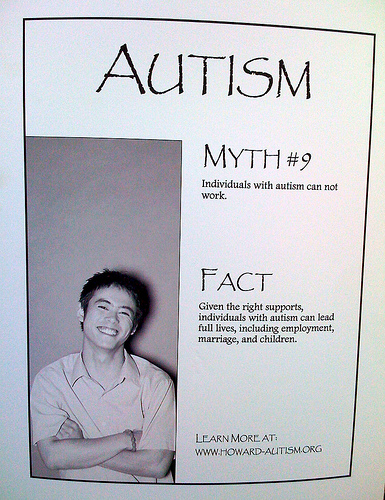 The headline of Ashley Johnson's article found earlier this week in The Naperville Sun is a victory for all those who tirelessly advocate for people with disabilities in the workplace. Often one of the main obstacles is the perception that it may be more difficult to communicate with people with disabilities when working alongside them or providing instruction, which is why the bold-type "Some Employers Find Those with Autism Especially Suited for Jobs" is a real attention-grabber.
One of those jobs is software testing. A Highland Park company called Aspiritech employs 14 people considered high-functioning on the autism spectrum, and their operations director, Moshe Weitzberg, tells Johnson that "his workers have the ability to focus and spot irregularities that other people would miss."
Weitzberg says the company utilizes a specialist to ensure its employees with disabilities aren't distracted by their conditions, allowing Aspiritech to get the maximum benefit out of each worker's talent for the task.
As Johnson discovers through several conversations with advocates and employers of people with disabilities, the types of jobs these people are suited for span a wide range of opportunities. Regardless of the severity, the key is getting co-workers to understand how someone communicates in the workplace. Chris Simler of the Turning Pointe Autism Foundation tells her:
He knows of people working in jobs as varied as retail, data entry, accounting and social work. 'I don't see the walls,' Simler said. 'The more we can put people with autism in different places the more awareness we can create.'
And with awareness comes a comfort level within the workplace that can benefit both the person with the disability as well as the workplace. Such is the case with Eric Thomas, who used to have a job coach present at each of his two part-time positions but now operates independently at each.
Eric is the subject of the gallery of photos accompanying the story. Photographer Jeff Cagle follows him around Brookdale Music as he prepares practice rooms for use by store patrons. Eric's mother, Karen, tells Johnson that employers quickly discover that hiring a person with a disability is as beneficial to them as it is to the individual they hire:
She recalled attending an event to recognize employers who have hired people with disabilities. Several managers said they had hired disabled students to do a nice thing but found out they made great employees.
The benefits of hiring people with disabilities extend to the company's bottom line, as pointed out by University of Missouri professor Scott Standifer, who tells Johnson that the loyalty of the employees extends to their family, friends, and supporters who patronize the business. When you find the right training and support, hiring people with disabilities is an investment with solid returns.
Comments?
Image by Jeff Kubina, used under its Creative Commons license.
Leave a Reply