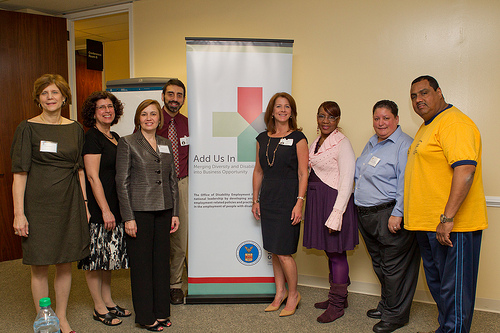 Yesterday's post made a reference to employee resource groups (ERGs) at Northrop-Grumman being a key to their success providing employment opportunities to people with disabilities, both within the organization as well as through contract service organizations. Forming an ERG for people with disabilities is recommended by the Office of Disability Employment Policy in its publication "Business Strategies that Work: A Framework for Disability Inclusion." And when DiversityInc published its Top 10 Companies for People with Disabilities list this past summer, the leading commonality listed in its writeup was that "all of them have employee-resource groups for people with disabilities."
ERGs have historically been a tool for creating a sense of awareness and inclusiveness within companies with large and diverse workforces. But in 2012 their influence on all aspects of organizational decision-making was on the rise. Forbes blogger Glenn Llopis urged ERGs to "transition from social networks to think-tank type groups that directly impact the business" in a June post, "7 Ways to Enable Your Employee Resource Groups into a Powerful Advancement Platform," writing:
ERGs must become smarter about defining what they are ultimately trying to accomplish for themselves and the business, and then create a metric to enforce accountability to assure their objectives are being measured and attained… They must be focused on defining a value proposition that is more strategically aligned to seeing and seizing business innovation and growth opportunities that are directly related… ERGs must become more deliberate in how to enable unique thinking into different points of view and perspectives that translate into solutions to meet corporate growth objectives and initiatives across channels, brands and business units.
The day after Christmas edition of The Wall Street Journal included an article by Joann Lublin documenting several examples of people using their involvement with ERGs to advance in their careers. "Done right, participation can deliver access to top company leaders and open doors to prominent projects," Lublin wrote. Unfortunately, none of the examples she listed were from ERGs for people with disabilities.
But when it comes to influencing innovation using their perspective to deliver solutions beneficial to the company's bottom line, the efforts of ERGs for People with Disabilities have paid large dividends for a number of major U.S. companies, including Ford, Hewlett Packard, and Eli Lilly. Each of their stories are shared in the ERG toolkit found on Askearn.org:
[Ford] resource groups have provided input for vehicle design and advertising campaigns, and at Hewlett Packard (HP) […] the Disability Resource Group conducted accessibility testing of products… At Ford, as well as HP, members of the ERGs participate in college fairs alongside company recruiters to connect with diverse candidates. At Ely Lilly, ERG members compiled information about their local communities to assist recruitment staff in marketing job vacancies to a broad range of potential applicants.
Use the Comments sections to share any experiences you've had with ERGs and the impact they had on employing people with disabilities.
Image by U.S. Department of Labor.
Leave a Reply