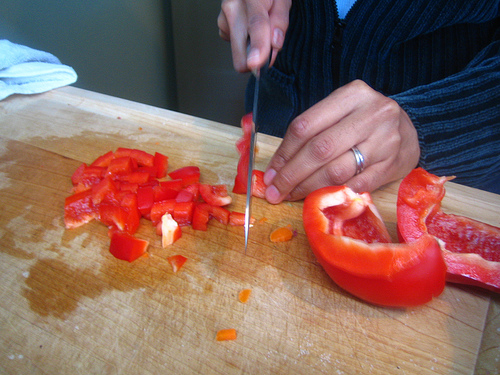 Two projects launched earlier this year at the University of Wisconsin-Manitowoc are making strides toward integrated employment for people with disabilities in this city found on the shores of Lake Michigan. Reporter Cindy Hodgson had separate stories published in last Sunday's edition of the Manitowoc Herald-Times Reporter, examining how each program is providing career training and job opportunities for these individuals.
Both projects are part of Next Step UW, a program designed to give students with disabilities a taste of college life. When it launched in 2009, Brittany Maertz wrote an article for the college's Free Press newspaper (found on page 9 of this PDF) that described Next Step UW's mission as providing "life skills" for these individuals along with the chance to sit-in on some college-level courses and gain some work experience on campus or through partnerships with local businesses. But back in February, transition coordinator David Koenig came back from a conference with the idea of having the Next Step UW participants start their own business.
The result, writes Hodgson, is the Steps'nStones business that makes hand-tied blankets, key chains, and bookmarks. Koenig has the Next Step UW students involved in all aspects of the Steps'nStone operation, including efforts to expand its sales base into area stores and marketing ideas such as a new brochure for holiday-themed merchandise. The article's accompanying photo by Sue Pischke shows student Josh Pribyl focused on assembling the pieces of a key chain, with some samples hanging in the foreground conveying the "Jobs First" message that is the programs overarching goal.
Jobs First! is also the name of the outreach campaign to the Manitowoc business community that people with disabilities are ready and able to be hired for jobs. In her article about this aspect of the Next Steps UW program, Hodgson writes the University is part of a statewide initiative conducted through the Wisconsin Board for People with Developmental Disabilities aimed at promoting integrated employment throughout the state.
Even though Jobs First! was just launched this past summer, it has already been busy reaching out to community leaders. Earlier this month, it organized a "Take Your Legislator to Work" day with state senator Joe Leibham visiting the members of the program in their places of work. Next Steps UW has also received a grant from the Mitsubishi Electric America foundation to start a year-long certification program in food preparation, which will also be open to some high school students in the area, writes Hodgson:
The students learn skills related to the food service industry, including proper handling of equipment and other kitchen essentials, customer service, cooking basics, stocking, basic marketing, working a food prep line, and catering. With supervision by job coaches, the students work with UW-Manitowoc students to prepare and serve meals sold to students and staff. They also made lunch for more than 100 people who were on hand for Leibham's visit.
Wisconsin has been making a concerted effort to improve services for people with disabilities since an evaluation by United Cerebral Palsy showed quality-of-life metrics for these individuals were on the decline in the Badger State. Share your thoughts on the Next Step UW approach toward making life matter for people with disabilities in the comments section.
Photo by rick.
Leave a Reply