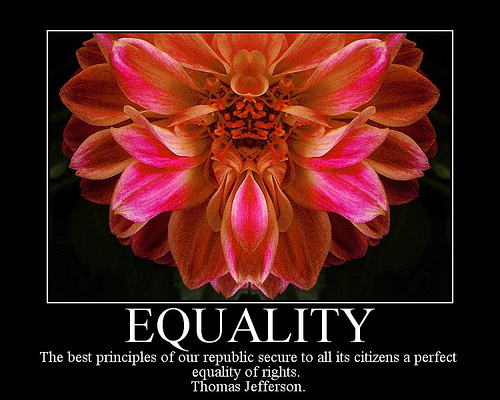 Two national organizations leading the charge for more employment opportunities for people with disabilities have joined forces to create a tool that helps businesses establish benchmarks toward achieving that goal.
The American Association of People with Disabilities (AAPD) and U.S. Business Leadership Network (USBLN) announced their plan for the Disability Equality Index (DEI) back in December. But it was Randy Cooper's January 8 post on the AAPD Power Grid Blog that helped spur attention to the initiative. Cooper describes the DEI as "an objective way for companies to benchmark their progress and identify avenues for continued improvement" regarding employment of people with disabilities. Once the tool is launched later this year, businesses making use of it can then generate data to aid other companies in doing the same.
Reader feedback to the DEI announcement on the Power Grid Blog was overwhelmingly positive. The lone exception being Pudge's comment that the acronym could be confused with the Labor Department's Disability Employment Initiative. Another commenter, named Lou, gave a long-range vision of how effective the tool could be in aiding the recruitment and hiring of people with disabilities:
As a standardizing measurement, it will create an equal playing field for companies enlightened enough about both the social justice and bottom-line benefits of employing people with disabilities. Since most businesses have able competitors, with DEI they can measure what they should be doing in this regard, and it will be like an arms race to get the highest DEI rating and market that to consumers.
Freelance reporter Pamela Babcock put together a nice article about the DEI for the Society for Human Resource Management website, getting comments from both AAPD president and CEO Mark Perriello and National Organization on Disability (NOD) president, Carol Glazer. Given Perriello's background with LGBT advocacy, it isn't surprising to learn that the DEI is modeled on a similar tool created by the Human Rights Campaign Foundation to assess workplace inclusiveness for these individuals. Criteria for the DEI includes recruiting and retention, professional development, and accessibility of information, says Perriello.
Glazer began the new year by issuing a challenge to CEOs of Fortune 500 companies to make increased employment of people with disabilities a priority in 2013. She provides Babcock with numbers that illustrate the need for a DEI, especially if the U.S. Department of Labor goes forward with its proposed rule to have federal contractors track recruiting and employment of people with disabilities. Currently, only about one-third of all companies have such a measure in place, says Glazer, and only 40% work with organizations that provide career training and employment opportunities, such as contract services work, to people with disabilities. So even though the NOD is not directly involved in the development of the Disability Equality Index tool, Glazer is "thrilled it's happening."
What do you think should be included in the DEI? Share your thoughts in the comments section below.
Image by leoncillo sabino (Jorge Elias).
Leave a Reply