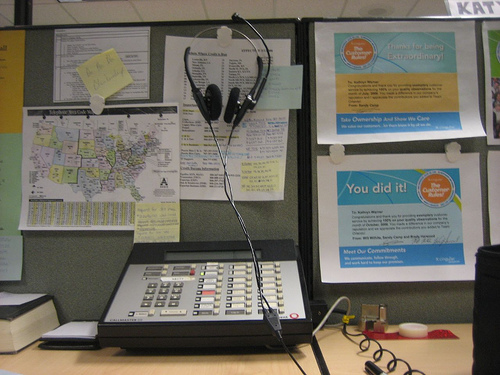 Dollar stores and call centers are two job areas where people with disabilities are finding more work these days, according to the recent article, "Disabled workers can be an asset in the workplace, if given a chance," by Olivera Perkins of the Cleveland Plain Dealer.
Organizations like the Board of Developmental Disabilities in Cuyahoga have historically provided employment opportunities for people with disabilities through contract services, working with manufacturers to perform light assembly, sorting, packing, and other fulfillment needs. But with so much of the manufacturing sector outsourced to other countries now, board officials had to think of other jobs that would provide compensation as well as skills training for their clients.
Retail seemed to offer the greatest potential, and the Board is getting set to open its third Just-A-Buck store in three years. Duties performed by the employees with disabilities at the store range from back-end inventory management to front-of-house customer service. Officials are hopeful that the interactions with customers will help change perceptions of these individuals, focusing on what they can do as well as their obvious enthusiasm for the job. As assistant manager Denise Auvil tells Perkins:
"[People with disabilities] really focus on doing a good job… In typical retail, you have a lot of people who are not too excited about doing their jobs. Here, you have some who want to come in on their days off."
Perkins also visits the Cleveland Sight Center, which began training people with visual disabilities as customer service call center representatives three years ago. Their contracts with area businesses and government agencies has provided employment to more than 70 people with disabilities during that time frame.
Congress has been paying attention to the large number of call center jobs going overseas these past few years, even introducing legislation to close tax loopholes that have led to the loss of more than half a million U.S. jobs. In addition to the dollar figures, the growing sentiment is that outsourcing these jobs to Americans rather than overseas enhances consumer privacy. Individuals like Paula Winter are proving that they can perform their jobs at a high level with just a small amount of accommodation. Perkins writes:
A call comes in to 1-800-Buckeye, the information line run by the Office of TourismOhio. Winter listens to the caller in her right ear. She enters a few keystrokes, which takes her to a website with an answer to the caller's question. A computer program, Job Access With Speech, or JAWS, converts the text on the screen into speech. Winter listens to it through her left ear and then responds to the caller's question. 'You have to multi-task or perish,' she said.
Social Security Disability Insurance claims have been spiking for the past few years, says Perkins, but have stabilized during the last quarter. As the economy continues to rebound and more employers become aware of the variety of jobs in which people with disabilities can excel, officials in federal and state agencies are hopeful that the employment rate for people with disabilities will continue to rise.
Comments?
Image by sun dazed (Katy Warner).
Leave a Reply