Thank you to all who were a part of our annual Celebrate Good Times Gala Raffle Fundraiser! We had such great donated prizes from community organizations, businesses, and our wonderful Partners and friends, to create a great raffle for this year's Gala! Together we raised more than $1,150 to contribute to our WOW! Magic evening at the Gatsby Mansion for our Guests and Residents!
Congratulations to all of our lucky winners, listed below in red.
Red Sox Tickets (two) vs. Rangers, May 23, 7:10 p.m. Donated by Moore Staffing, Methuen, MA.

Carl Thorpe

Visa, $200 Gift Card. Donated by Jos Healthcare, Inc., Lynn, MA.

Debbie Pellerin

French Wine Pair, Valued at $50. Donated by Wine & Beer at the Andovers.

Jodi Howshan

Bliss Basket w/ Hair & Skin Products. Valued at over $120. Donated by Bliss Spa & Salon, North Andover, MA.

Tammy Wilson

Lee Chen Fine Chinese Cuisine, $50 Gift Card. Donated by Lee Chen, Lawrence, MA. Valerie Luque
Bonefish Grill, $50 Gift Card. Donated by Benchmark Office Systems.

Ramona Pichardo

Guided Tour & 6 Passes to the Peabody Essex Museum. Valued at over $150. Donated by Maureen Bingham & Peabody Essex Museum.

Roger

Dominic's Diner, $50 Gift Card. Donated by Dominic's Diner, North Andover, MA. Valerie Luque
Greater Lawrence Boating Program Family Membership Pass w/ Sailing Lessons. Valued at $175. Donated by GLCBP. (Two passes, two winners to be drawn.)

Ray Laurin, Rafael B.

Hair Products & Accessories Basket. Donated by The Hair Place, Methuen, MA.

Roger

Cut & Dry Gift Certificate and Products Package from Joyful Hair Design. Donated by Joyful Hair Design, Pelham, NH.

Cara Laurin

Scratch Ticket Basket. Donated by American Training's Clinical & Youth Residential Services Team.

Zael Cruz

The Loop Gift Card Basket ($25 to AMC Theatres with candy,  $25 to the Olive Garden, $20 to the Chipotle Mexican Grill, $15 to Starbucks, $15 to Wendy's). Valued at over $100. Donated by American Training's Day Services Team.

Karen Viana

Wella Hair Products. Valued at $40. Donated by Evolution Beauty Supply & Salon, Lawrence, MA.

Carol Williams
Thank you to our wonderful 2017 Celebrate Good Times Gala supporters who contributed by way of donation to the event or to the Raffle Fundraiser.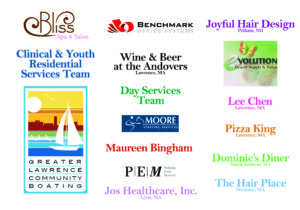 Leave a Reply