A fire ravaged through an apartment building on the morning of Tuesday, October 21st taking the lives of two children, leaving at least 17 people homeless, and an entire community devastated and heartbroken. The Kingston Street apartment fire tragedy occurred in neighboring Lawrence, hometown of many of American Training's own Colleagues, Guests, Residents and Students.
Overwhelmed with sadness from this devastating news, Day Services took this moment to reach out with a gesture of love and support for the victims of this tragedy.  With hearts filled with compassion and a sense of responsibility to their fellow citizens… our Day Services sent out a flyer on Monday October 27th, to all branches, inviting them to come together for a Bake Sale from which 100% of the proceeds would be donated to benefit the Victims of the Kingston Street fire.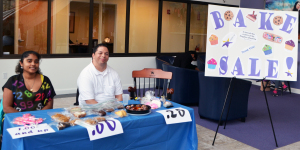 On Wednesday morning, October 29, WOW! Magic began to manifest itself before our very eyes. Colleague after Colleague, Guest after Guest, and Student after Student began arriving at 6 Campanelli Drive with arms filled with fresh baked goods to donate to the cause. There were even donated gift baskets and gift cards to local restaurants; which were used to raffle off at the bake sale, which in turn generated even more money to benefit the victims!
Every branch of American Training helped out in some way, shape, or form; by either donating items, setting up, selling/buying baked goods and raffle tickets or even standing outside with poster boards attracting people to the sale.
In one way or another everybody pitched in, and it showed…The bake sale was so popular it went on well past 1 pm on Wednesday and reopened again on Thursday. Our own American Training family bought delicious home-baked good after delicious home-baked good and community members trickled in in support of the cause. In total, we raised over $600 for the victims, WOW!
Fire Safety Tips:
Never leave food unattended on a stove.
Never place space heaters near flammable materials.
Make sure there are smoke detector's located on every level of your home. Make sure they are working by testing them monthly and replacing the batteries annually.
Keep lighters and matches out of the reach of children.
Fire is DARK, you won't be able to see when you are in a fire.
Make sure you and your family have an escape plan in case of a fire, and that all family members practice it bi-annually, ensuring that everyone one knows how to escape every room.
If you find that you are in a building that is on fire, get out FAST, a single flame can burn out of control in just 30 seconds.
Stay LOW, the smoke and heat from a fire rises and is super-hot, inhaling it can kill you by burning your lungs, it is important to avoid breathing it in by staying low to the ground and under it when escaping from a fire.
Fire produces gases that make you disoriented and drowsy. Instead of being awakened by a fire, you may fall into a deeper sleep.
Asphyxiation is the leading cause of fire deaths, exceeding burns by a three- to- one ratio.
To learn more about fire prevention, check out the US Fire Prevention site here. Learn more about Day Services and our coming events here.
Leave a Reply