Our Lowell Options program celebrated Human Rights month in January with one of our main focuses being on the right to vote. What better way to learn about this right than to live it?! We conducted an election to appoint five Guests as members of our newly formed Advisory Committee, a group of Guests who focus their attention on the day-to-day WOW! Magic in the program. They will work together to gather ideas and suggestions from their peers and share these ideas with our management team to ensure they are getting the most out of their days and that their voices are heard on the things that are most important to them.
Everyone began preparing for this big event weeks in advance. They created their own campaign posters, and had a little fun doing so, and spent a lot of time figuring out what they could bring to this committee if they were chosen. They worked hard on their speeches, all the while learning about democracy and the reasons why we vote.
On January 27th everyone gathered together and listened intently as each candidate delivered their speeches. When the last person finished her speech it was time to head to the voting booth. Everyone voted in private and placed their vote in the ballot box. The votes were tallied and the verdict was in!! The excitement was overwhelming and everyone couldn't wait to see who made it!!
The members of the Advisory Committee were announced and the crowd went wild!! The support that everyone showed each other was incredible. We ended our election by thanking everyone for entering the race and for all of the hard work they put in. We reiterated to everyone that their voices will be heard and that everyone has an important role in being a part of this program because their opinions and ideas matter, and because every Life Matters!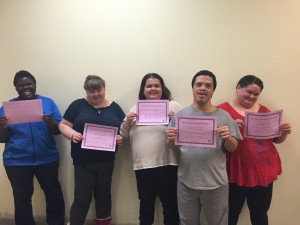 Meet our Advisory Committee, from left to right: Sharifah, Danielle, Stephanie, Nicholas, and Sabrina.
Leave a Reply