Pictured above: Tito Rodriguez, Danny Santiago, Julie Murphy, Henri Jorge, Amazing Hero Artist Rob Surette, and Miguel Maldonado are all smiles upon receiving their personalized custom sketches of their "heroes" created by their special friend/artist Rob Surette.
On December 8th, we welcomed back our friend and "Amazing Hero Art" artist, Rob Surette.  Rob performed at our annual Tie Dye Day & Carnivale back in June and won the hearts of all that attended.  A small group of fans struck a conversation with Rob and friendships were made.
Rob made a list of these special Guests and Colleagues and who he was going to sketch. Then, as promised, he worked some WOW! Magic and mailed them out as soon as he was done.  He didn't stop there. He insisted on coming out to visit to hand deliver his treasured pieces, much to the delight of the recipients of his sketches.
Among the sketches were basketball player Kevin Durant, magician Criss Angel, Winnie the Pooh, basketball player Michael Jordan, and others.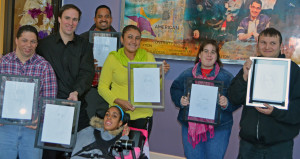 Tito Rodriguez, Rob Surette, Henry Jorge, Dionicia Yens, Denny Marte, Cassie Hamilton, and Miguel Maldonado were all so happy to display Rob's beautiful sketches.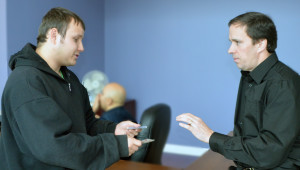 Rob even had time to share some of Miguel's magic tricks…do we see a future Tie Dye Day & Carnivale performer? Miguel has some pretty amazing tricks to share!
Leave a Reply