Have you ever sat in a boring training class, watching the clock, dreaming of priorities that have to get done when you leave? We've all been in this situation, yet these classes still exist. Training our employees to do their jobs is a requirement, but that doesn't mean it has to be boring.
Here at American Training, we asked ourselves, how can we make training better so our Colleagues are engaged and actually learning?
We certainly have many training requirements at American Training, but we are on the path to doing it uniquely different and better. We are on the path to deliver ALL our training with WOW! Magic! What does that mean? It means providing a learning experience that…
Turns ordinary upside down.
Gets peoples' attention and inspires.
Turns everyday actions into unexpected WOW! moments.
Leaves lasting outrageously memorable impressions.
We are in the early stages of developing a WOW! Magic training program, but we're already receiving great feedback!
While we are working tirelessly to improve every aspect of our training, I want to focus on one aspect…ensuring all Colleagues feel welcome and comfortable.
Most people are a little apprehensive about attending training programs. Even as adults we don't want to provide a wrong answer or ask a "stupid" question so making people feel comfortable is very important. How do we do that? On day one of Orientation Week, a sign "Welcome to Our Family" with our very own Colleagues showing their WOW! Magic!  is on the door.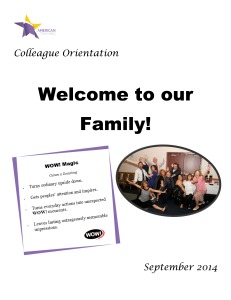 Family-Centered is one of our Core Values, so this is just one way we welcome them like family.
My mother-in-law has "Spaghetti Night" every week and I've learned from her how to make people feel welcome. She invites everyone over and when you walk into the house she greets everyone in a friendly voice, saying hello and telling them to "come on up!" The atmosphere is important – just think of the atmosphere in your favorite local restaurant, that you go back to many times.
But it's not just the feel, it's also the look. We decorated the room with a fall theme, using orange, green, and yellow table cloths, pumpkins and a fun scarecrow. We provide coffee, tea, water, snacks and yummy Chinese food for lunch! (Food makes most people happy, so this is an important component!)
We welcome them with a smile, and introduce ourselves to each one as they walk in the room instead of waiting for the class to "officially" start. In each of their seats, there are customized name tents, American training giveaways, such as candy, a pen and koozies.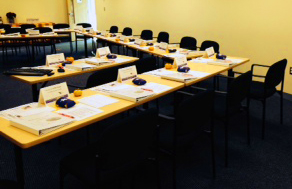 When we are feeling welcome we enjoy ourselves, so we feel comfortable having fun. Each day of training is filled with different activities, getting people involved and having fun.
I can't give away all our secrets, but just know that we want our Colleagues to WANT to come back the next day, so our team is working hard to keep them smiling all week long!
Leave a Reply