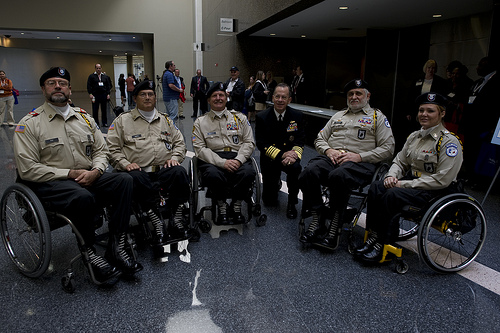 The Internal Revenue Service used last week's observation of Veteran's Day to remind businesses that time was running out on the chance to earn a tax credit of nearly $10,000 for hiring a veteran with a disability.
As with all things related to the U.S. Tax Code, the rules governing the Vow to Hire Heroes Act of 2011 seems needlessly convoluted. Most media outlets, like the Vallejo Times-Herald, merely reprinted the guidelines provided by IRS officials. But AccountingWeb.com posted an expanded explanation by Ken Berry for CPAs, as well as a "Six Key Facts" sidebar with helpful links to the Department of Labor website.
Jim Dino's article for HispanicBusiness.com adds a human element to the number-crunching, speaking with veterans with disabilities looking for jobs as well as employers with a successful track record of hiring former military personnel. One veteran, identified in the article only as "Smith," says the number of veterans with disabilities in the workforce will increase when employers realize how the military code can translate into the civilian world:
Smith said he researched the top 10 work values employers look for: A strong work ethic, dependability and responsibility, a positive attitude, adaptability, honesty and integrity, self-motivated, motivated to grow and learn, strong self-confidence, professionalism and loyalty…. 'Notice how just about everything here (the list) coincides with just about everything the military teaches. You guys (business and industry) teach that, but if you take somebody that's a veteran, you get somebody that's already been taught. They've got a head start, and strong self-confidence,' [said Smith.]
The Work Opportunity Tax Credit (WOTC) Program is the basis for these programs designed to motivate employers to hire veterans with disabilities before January 1, 2013. But as the Job Accommodation Network website points out, the WOTC can be applied to nine different groups of jobseekers. Employers can get credits for giving permanent jobs as well as temporary work to people with disabilities of all ages, although hiring veterans provides the highest amount of relief.
According to this February post by blogger Vaughn Hromiko on The WOTC Planet, the program has been renewed eight times since it has originally became a law at the turn of the millennium. Another extension is in doubt at the moment, Hromiko wrote last week, as Republicans and Democrats wrangle over a permanent budget agreement that will prevent the triggering of automatic cuts currently being referred to as "the Fiscal Cliff."
Have you or someone you know benefited from the WOTC, either individually or as a business? Share in the comments section below.
Image by Chad McNeely.
Leave a Reply