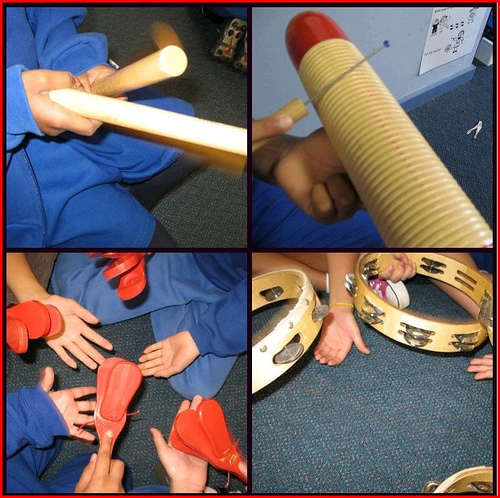 A couple of inspiring stories about people with disabilities learning and performing music close out our 2011 coverage. The first comes from down in Louisiana, where everyone seems to have the same musical ambitions as Eric Mathews. The 39-year old man, who resides in an independent-living apartment complex for people with disabilities, tells Shreveport Times reporter Melody Brumble that he is looking to put a band together. She writes:
Matthews' latest musical project is the saxophone. He takes weekly lessons. He also plays guitar and drums.'My daddy and uncles have a gospel group. My daddy used to play those old-time blues,' Matthews said. 'I should've taken it up when I was in Homer with them, but I'm doing it now.'
Brumble writes that the same aptitude for learning a musical instrument also applies to his interest in electronics. Matthews has outfitted and set up his own stereo system, and can use his computer to look up music online and make mixes for family members.
We see further evidence of his ability to perform hands-on tasks in Henrietta Wildsmith's accompanying photo, which shows Matthews standing in front of his truck, hood propped open and container of power steering fluid in hand. Matthews works shining shoes in a barber shop, but if he continues on his current path, he may just take his act on the road.
Meanwhile, a group of people with disabilities in Arlington, Washington, already have a standing weekly gig. The Voices of the Village get together every Friday afternoon, where under the direction of John Dalgarn, they play, sing, and dance to their heart's content.
Part of the focus of KING 5 News reporter John Sharify's story is Frank Barden, who is writing a book about the group that will be sold to support the program. Barden had a brother with disabilities who is now deceased, and he tells Sharify he sees this project as a way to keep his brother's memory alive:
I don't know any other way to memorialize them than this way because some day there will be a short little obituary or something about them and that's it. And no one will ever know that they affect an awful lot of lives.
The segment, which runs almost a full eight minutes, captures incredibly joyous moments of these people expressing themselves through keyboards, xylophones, and tambourines, among other instruments:
With regards to the mission at ATI, it also shows how enthusiastically people with disabilities take instruction and work together, qualities that can also benefit them in getting jobs and performing well at them, when given the opportunity. We hope you all have a safe and happy new year.
Comments?
Image by g_kat26, used under its Creative Commons license.
Leave a Reply