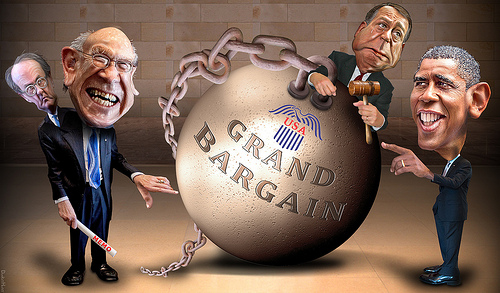 Michelle Diament of Disability Scoop noted that The Arc CEO Peter Berns was among those who met with President Obama last week to discuss the issue of the "fiscal cliff." Berns was invited to give a voice to people with disabilities regarding the impact that steep cuts in federal spending would have on their ability to work, go to school, and receive health care.
Check out Thomas Kenny's article at About.com for a deeper explanation of what the fiscal cliff is exactly; but in a nutshell it is a lose-lose scenario set up by a Congress unable to compromise on a federal budget. Taxes will go up for people of all income levels while the Department of Defense, Medicare, and literally 1,000 other government programs will have their budgets reduced by 8% of more.
Those who philosophically favor a smaller federal government often refer to social programs such as Medicare and Social Security as "entitlements," a word that carries the sneering implication that those who benefit from such largesse are undeserving. But in the press release put out by The Arc about the White House gathering, Berns says programs like Medicaid are essential for people with disabilities:
Medicaid is the lifeline keeping people with disabilities from unfathomable alternatives — like being institutionalized and losing their independence — and preserving all that we have worked for as a nation over the last 60 years to bring people with disabilities out of the shadows and into society.
Media outlets across the country have been publishing stories about the impact the fiscal cliff would have on their respective communities, including people with disabilities. Both David Delcore of Vermont's Barre-Montpelier Times Argus and Ida Lieszkovszky at StateImpact Ohio say children with disabilities will be most affected when funding from the Individuals with Disabilities in Education Act (IDEA) is slashed from school budgets.
Mandatory cuts in defense spending are seen as an offset to reductions in social programs that will help bring about a bipartisan compromise. But as Janie Lorber writes for Roll Call, the $55 billion drop in the Pentagon's 2013 budget would first and foremost eliminate "the very projects most suitable for the disabled," including the contract services provided by AbilityOne that employs people with disabilities in operations and maintenance positions at military bases across the U.S.
Kyle Roernick's article in Wyoming's Casper Star-Tribune also does a good job showing how the effects of the fiscal cliff trickle down from the Department of Defense to government contractors to nonprofits like Magic City, which provides employment opportunities for people with disabilities in a commissary that serves the F.E. Warren Air Force Base.
Use the comments section to share your thoughts on how the fiscal cliff would impact people with disabilities.
Image by DonkeyHotey.
Leave a Reply