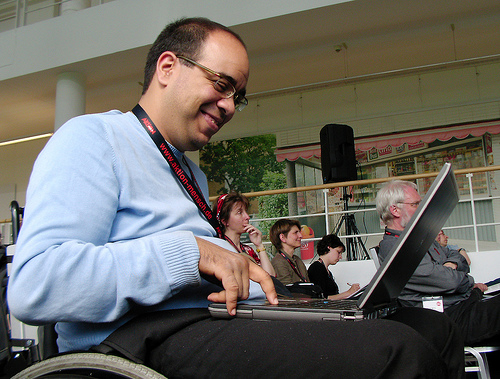 While organizations like ATI help people with disabilities with career training and contract labor opportunities, a business owner needs to have an open and inclusive workplace in order to ensure the employment of these individuals is successful. The U.S. Department of Labor's Office of Disability Employment Policy (ODEP) just published a guide to help employers make this happen.
According to this article in the Manufacturers Group, Inc. newsfeed, "Business Strategies That Work: A Framework for Inclusion" is designed to provide ideas and resources that ensure a workplace is diverse and inclusive. The result is not only a better environment for employees, but there are bottom-line impacts to hiring people with disabilities as well. The article states:
At 54 million strong, [the population of people with disabilities] surpasses Hispanics, African Americans and Asian Americans, as well as Generation X and teens. Add in their families, friends, and associates, and it represents an estimated $1 trillion dollars in purchasing power… By employing people with disabilities, businesses can gain a better understanding of how to meet the needs of this important and expanding market segment.
"Business Strategies That Work: A Framework for Inclusion" (PDF) is divided into seven sections that focus on different areas where businesses can take meaningful actions toward an inclusive workforce; from policy statements to recruiting practices to workplace accommodation and communication, as well as methods for measuring and building on success. The Introduction page includes a small but very important note at the bottom, identified by an asterix, which stresses that all the strategies in the guide adhere to current legal requirements. In other words, nothing new is being proposed here; just the same regulations for compliance that have been built upon since the American with Disabilities Act went into effect a generation ago.
The guide is just the latest in a host of initiatives by the ODEP to encourage and facilitate the hiring of people with disabilities. As noted on the office's home page, the unemployment rate for people with disabilities is 5% higher than the national average, with just one in five individuals with disabilities participating in the U.S. Labor Force.
The ODEP just wrapped up its second "What Can You Do?" video contest at the beginning of the month, through the Campaign for Disability Employment. It is also currently holding a "Disability Employment App Challenge," which will award a total of $10,000 in cash to developers of the best technology tools that aid recruiting, skill building, job training, and accessibility.
Comments?
Image by Martin Kliehm, used under its Creative Commons license.
Leave a Reply