Specialized Housing knows what it takes to turn a House into a Home and at this time of year, one way to do that is with a beautifully decorated Christmas Tree.
For the first time ever, we had an entry into the Methuen Festival of Trees. Our SH Manager Stephanie Colon coordinated the undertaking of building our tree, appropriately named "Life Matters".
"I picked the Festival of Trees for a WOW! Project as a way for us to give back to the community while also getting our name out there. I chose 'Bringing Back Childhood' as our theme because I think we get so into technology these days that we forget to make memories," said Stephanie.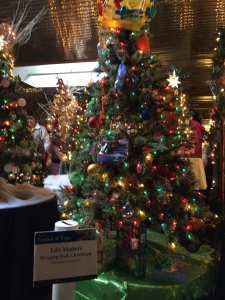 In order to illustrate that idea, she and her team found old fashioned toys to decorate the tree; toys that used imagination, not electricity. Checking out the variety of toys hanging on the tree, which included Rock 'Em Sock 'Em Robots and Barrel of Monkeys among others, brought back sweet memories of childhood fun, just what Stephanie and her team had hoped they would.
Many of our Residents attended the Festival and enjoyed seeing the trees. Some even put in bids to take one of the trees home. While we didn't win any of the Festival Trees (though some lucky winner went home with our Life Matters tree), we scored big with some beautifully decorated trees at each of our homes, and locations.
One Resident, Nick Smith, told a Colleague that he liked going to see the trees and he picked the American Training tree as his favorite. He was not alone, several Residents and Colleagues who were able to attend shared their love for our Life Matters tree. It meant a lot to both our Colleagues and our Residents to see our company, our ATI family, represented at this terrific event.
Wait till you see what we do next year!
Leave a Reply