Thank you to all who joined us for our May Paint Night Fundraiser. We had an absolute blast with you! And we're so thankful for your support of the Creative Process, an arts program for the Residents of our youth residential program.
We held our first ever Paint Night Fundraiser on May 26th at American Training in Andover. And this first class nearly sold out!
Our attendees were treated to a delicious smorgasbord of sandwiches, snacks, and the now famous Painter's Punch (yum!), as our Colleague Maxine guided the class, step-by-step, through the painting of the beautiful cherry blossoms below.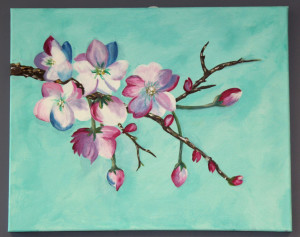 The evening was filled with laughter, genuinely great company, and, of course,
WOW! Magic
. And the end result was amazing, each attendee went home with a beautiful rendition of the cherry blossoms, each painting with its own unique touches.
"I thought that the night was fun, relaxing, and all for a great cause," said attendee Val.

"Spending time with a group of fun, interesting, supportive women was the best part for me," said Carolyn, another attendee.

"I was happy to be doing something relaxing and positive while contributing to a very worthwhile cause," said attendee Robin.

"WOW! is the best thing I can say about this Paint Night! I enjoyed every minute of it," said Brianna, another attendee. "It was a night to relax, have fun, and spend the evening with great women, creating masterpieces."
Check out photos from the night below. Then stay tuned for more information, coming soon, about another Paint Night coming in June.