On Friday night, November 17, we did one of our favorite things to do…we celebrated our hardworking and incredibly deserving Colleagues at our annual Colleague Recognition Awards at the Indian Ridge Country Club.
All year long, each and every day, year after year, our Colleagues work to give our Guests, Residents, and Students Outrageously Memorable experiences and Unique & Different opportunities, while providing Extraordinary Customer Service. On top of all of that, they work hard to bring our WOW! Magic events to life for so many!
The Hollywood-themed evening, where our Colleagues were treated as red carpet royalty, featured awards galore, a delicious meal, music and dancing by Main Event Entertainment, caricatures by Mark Penta, and great company!
We kicked off the night with red carpet photos and a glamorous photo booth, also by Main Event Entertainment, and wrapped it up by handing out raffle prizes and superlatives for Most Comedic, Hiedi Keefer; Most Bubbly, Donny Wise; Best Dressed, Steve Pellerin. We also awarded those who were looking the most Red Carpet-Ready, Louisa Owusuboadi, Joseph Kinyanjui, and Stefanie Feliz.
But it was the middle of the night that mattered most. Between the photos and the dancing, we handed out awards; Years of Service Awards to those at milestone years, Starfish Awards to those nominated by their peers, and WOWzer! awards to those nominated by our President and CEO Tom Connors.
WOWzers!
The recipients of the WOWzer! Awards are hand-picked for the honor by President and CEO Tom Connors. These select few are chosen for their commitment to going above and beyond in their positions. These people have years of experience and dedication proving just how committed they are to delivering WOW! Magic, not only to those we serve, but to anyone and everyone we work with as well. WOWzer! winners exemplify the Mission and Values of American Training and are fundamental in bringing them to every aspect of the organization.
Our 2017 WOWzers! 
Steve Pellerin
Lorraine McLarney
Robin Gazelian
Ratha Teng
Jodi Howshan
Ivette Colon
Starfish
Starfish recipients are nominated by their peers for their commitment to making a difference in the lives of those around them.
Our 2017 Starfish
Johanny Catalino
Mary Quinn
Yahaira Alicea
Ivette Colon
Esperenza Mendoza
Dalynet Santiago
Mike Nutton
Jose Diaz
Stephanie Colon
Lynn Bloomquist
Danielle LaPointe
Donny Wise
Carole Giordano
Jenn Auclair
Alex Ball
Gary Murchie
Louisa Owusu-Boadi
Elizaida Cruz
Years of Service
These recipients are honored for their commitment to American Training. These Colleagues have been with us for years and are recognized for their hard-work and dedication to our mission of Bringing Out the Best in Everyone We Touch Because Every Life Matters!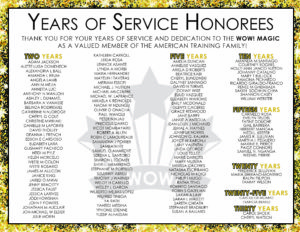 Congratulations to all!
Check out a few photos from the evening below, with more to come soon!