On Friday, October 26th we celebrated our Exceptional Colleagues at our annual Colleague Recognition Awards at the Andover Country Club.
Fueled by our signature WOW! Magic, our ATI Colleagues work with a passion second to none to provide our Guests, Residents, and Students with Extraordinary Customer Service, Outrageously Memorable experiences and Unique & Different opportunities.
This year we showed our Colleagues just how much they are appreciated as they were treated to royal red carpet treatment in destination Hollywood, where they experienced American Training's Great Movie Ride that showcased some of our Colleagues most famous and creative handmade showpieces from WOW! Magic destinations past, and featured awards, delicious food, music, dancing and of course… Exceptional People!
But it was what was at the heart of the night that mattered most… recognizing our American Training Family members for their dedicated service and extraordinary work! Between the photos and the dancing, we handed out awards; Years of Service Awards to those at milestone years, Starfish Awards to those nominated by their peers, and WOWzer! awards to those nominated by our very own President and CEO Tom Connors.
WOWzers!
The recipients of the WOWzer! Awards are hand-picked for the honor by President and CEO Tom Connors. These select few are chosen for their commitment to going above and beyond in their positions. These people have years of experience and dedication proving just how committed they are to delivering WOW! Magic, not only to those we serve, but to anyone and everyone we work with as well. WOWzer! winners exemplify the Mission and Values of American Training and are fundamental in bringing them to every aspect of the organization.
Our 2018 WOWzers! 
Stefanie Feliz
Renee Robinson
Jessica Cousins
Tony Henriquez
Gina Jones
Julie Morin
Starfish
Starfish recipients are nominated by their peers for their commitment to making a difference in the lives of those around them.
Our 2018 Starfish
George Chege
Jeannie Cartmel
Tony Henriquez
Jose Lopez
Jessica Garcia
Dave Moynihan
Mike Nutton
Stefanie Feliz
Michelle Comtois
Mustapha Achab
Years of Service
These recipients are honored for their commitment to American Training. These Colleagues have been with us for years and are recognized for their hard-work and dedication to our mission of Bringing Out the Best in Everyone We Touch Because Every Life Matters!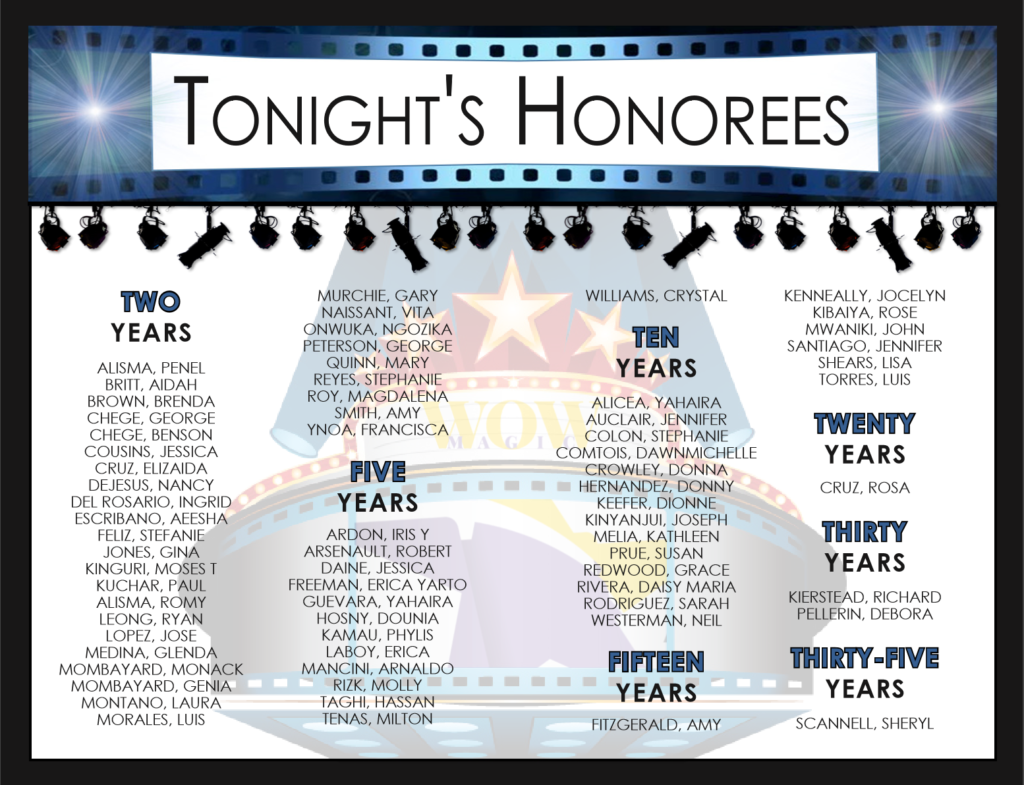 Congratulations to all!
Check out some photos from the evening below!