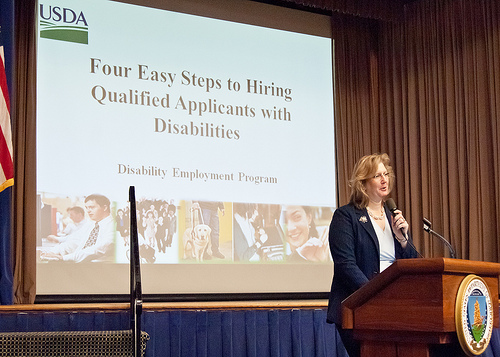 Last year closed with several positive strides for people with disabilities seeking jobs. Unemployment figures dropped as corporations made conscious efforts to recruit and hire more people with disabilities into their workforce, while the U.S. Labor Department's proposal to instill accountability measures into the recruiting practices of government contractors offers a spark of hope that more businesses will recognize the value of hiring people with disabilities as contract laborers or full-time employees.
Just before the holidays, the National Organization on Disability (NOD) released its "Fine Nine," a list of U.S. companies that have made the hiring of employees with disabilities a corporate priority. It's been five years since the NOD made the strategic decision to hone its focus toward the specific issue of employment for people with disabilities. During that time, it has commissioned national surveys that helped shed light on factors behind the high unemployment rate for this particular population and partnered with national corporations to create programs that facilitate better recruiting and hiring practices.
One recent survey (link opens as PDF), conducted with the aid of the Kessler Foundation and Harris Interactive, revealed seven key findings:
Diversity initiatives at companies frequently do not have explicit language that includes people with disabilities.
Those companies that do have explicit policies are more likely to have hired a person with a disability in the past three years.
Accountability needs to improve: Only one in three companies track recruiting efforts.
Sixty-two percent of the companies interviewed said hiring people with disabilities did not create additional expenses.
People with disabilities exhibit positive worker attributes either as frequently or more frequently than other employees.
Finding employees with disabilities with the right qualifications and skill sets is a challenge for 40% of the companies surveyed.
Organizations that provide career training for people with disabilities and serve as employment agencies are vital resources for private businesses.
With respect to number five, the NOD's executive summary includes a breakdown of responses based on the traits any company looks for in a good employee: dedication, flexibility, absenteeism, ability to acquire new skills, and retention, noting that:
Most employers say that employees with disabilities have the same flexibility, absenteeism, and aptitude for acquiring new skills as employees without disabilities. More importantly, one-third report that employees with disabilities have more dedication and less turnover.
The NOD's "Fine Nine" list was published in Business Management Daily with short blurbs citing specific endeavors by each company. Further exploration in this space is warranted, however, and we will examine what each company is doing to increase the number of people with disabilities in its workforce over the coming days.
Comments?
Image by the USDAgov (U.S. Department of Agriculture, used under its Creative Commons license.
Leave a Reply