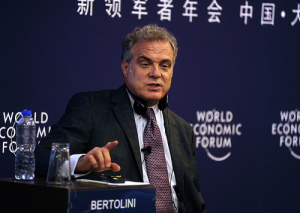 Last week, we covered half the companies on the National Organization for Disability list of "Fine Nine" companies making the hiring of people with disabilities a priority. We pick up this week with a look at the insurance provider, Aetna, which is "seeking to build a pipeline of candidates with disabilities," according to the Business Management Daily summary.
Aetna's commitment to hiring people with disabilities, and a diverse workforce in general, surged when Mark T. Bertolini took over for Ronald A. Williams as president of the company in the fall of 2010. Already part of the DiversityInc list of "Top 50 Companies" for two straight years, Aetna moved up 11 spots to number 19 this past year.
DiversityInc takes pride in its empirically-based methodology and its objectivity — companies do not have to pay a fee to participate in the Top 50 rankings. It also publishes top 10 lists for specific diversity categories. Aetna was ranked as the fourth best company for people with disabilities in 2011. The DiversityInc website says of this category:
… [T]hese companies make a concerted effort to recruit, retain and promote people with disabilities and to create an inclusive corporate culture for people with both physical and hidden disabilities.
The Aetna listing specifically cites Bertolini's influence in the people with disabilities category, referring to him as an "outspoken advocate" and speculating that his passion for the cause is due in part to his personal experience. In 2004, Bertolini suffered a broken neck while skiing that was so severe a priest was actually brought to the hospital to administer his last rites.
In her profile of Bertolini, Hartford Courant reporter Diane Levick says the accident left him with very limited use of his left arm, but he has been able to return to the active lifestyle he once enjoyed, including skiing (albeit without poles). Of his work situation, Levick writes:
The best medicine, he says, was promptly returning to work at Aetna after the accident and feeling productive, even though he acknowledges not functioning at full speed the first year. The company, which won a federal award for workplace innovation to employ people with disabilities, adapted Bertolini's office with a computer keyboard for one-handed use and a special ergonomic chair.
As a provider of long-term and short-term disability insurance policies to other companies, Aetna is positioned to disseminate positive information about the value of people with disabilities in the workplace. In the products section of the company website are pages about career development and technology for people with disabilities as well as information about employee perceptions of these people.
One page, entitled "Dispelling Myths about People with Disabilities," sets up assumptions and realities that help employers understand that all these people are looking for is a chance to come to work and live their lives as independently as possible. For example:
Assumption:  
All Persons with disabilities are inspirational, courageous, and brave for being able to overcome their disability.


Reality:
Persons with disabilities are carrying on normal activities of living when they drive to work, go grocery shopping, pay their bills, or compete in athletic events. They do what it takes to participate in the full range of human experience. People with disabilities may be inspirational for reasons related, or unrelated, to their disability.
Comments?
Image by World Economic Forum, used under its Creative Commons license.
Leave a Reply